---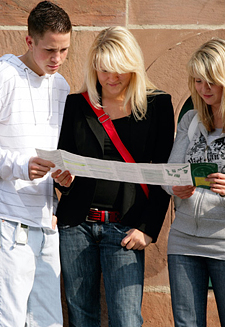 Landesstudienkolleg Sachsen-Anhalt
RENED invitation for Studienkolleg entrance test - for summer term 2018
In order to receive a new invitation for the summer term 2018, please write an email to andrea.schreiter@verwaltung.uni-halle.de until October 31st 2017.
The following details should be included: name, birth date, uni-assist application number, recent post adress
The new invitation for the entrance test will automatically be send in November. Another application via uni-assist is not necessary, if you mind the deadline.
How to reach the Studienkolleg
Adress: Nietlebener Straße 6-8, 06126 Halle
With public transportation to stop "Schwimmhalle"
From "Hauptbahnhof" - tram lines 2, 9
From "Markt" - tram lines 2, 10, 11

Directions to the Studienkolleg as a pdf with map
Wegbeschreibung Studienkolleg.pdf (208.1 KB) vom 28.08.2012
Preparatory College courses (Studienkollegskurse)
In this section you will find a listing of the subjects with their degrees and which preparatory college course is intended. You can view these lists by subject, by degree and by course.
Preparatory College course-subject-overview (sorted by subject)
Studienkolleg Kurs-Fach-Übersicht (nach Fach).pdf (58.1 KB) vom 18.06.2014
Private Studienkollegs in Saxony-Anhalt
Applicants who could not enter Landesstudienkolleg Sachsen-Anhalt might alternatively attend a private Studienkolleg. Fees might be charged there.
---
---