---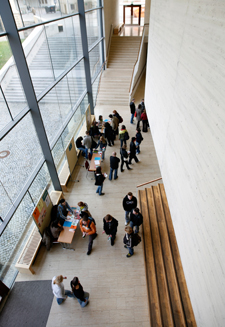 Creating knowledge since 1502
"Science" Article: Researchers from Halle discover genetic basis for social behaviour in bees
The social behaviour of bees depends on the highly complex interactions of multiple gene groups rather than on one single gene. This has been established by an international team of researchers that includes scientists from Martin Luther University Halle-Wittenberg. The researchers analysed and compared ten bee genomes in order to identify a common genetic basis for the social behaviour of different species of bees.

DAAD to fund Halle University's exchange programme with China for another four years
The successful student exchange programme between the Institute of Economic Law of the Faculty of Law, Economics and Bussines and China's Southwest University of Political Science and Law in Chongqing will continue to receive another four years of high-level funding. Following a positive evaluation, the German Academic Exchange Service (DAAD) is once again providing the programme with around 500,000 EUR. Under the leadership of Professor Christian Tietje, the institute has supported an exchang­­e programme for students and scientists with the university in China since 2006.
Cutting-edge research: federal government to fund Halle's Centres for Innovation Competence for another five years
The two Centres for Innovation Competence (ZIK) at Halle's university are receiving high-level funding for another five years from Germany's Federal Ministry of Education and Research. The life sciences project "HALOmem - membrane protein structure & dynamics" and the materials science project "Silicon and Light: from macro to nano", in short SiLi-nano, have been in existence since 2009. According to the ministry, the ZIK have developed into a nucleus of top-flight research in a short amount of time. The two ZIK receive around ten million euros in funding from the federal and state governments.
News from the past
Is a fossil from the Geisel Valley the first proof that crocodiles cared for their brood? How were five different crocodile species able to share a single habitat? Finds from the Geisel Valley date back to the Eocene Epoch and still hold many secrets. These secrets are attracting researchers from around the world, including Alexander Hastings. When speaking to Hastings about his work, it quickly becomes clear what has drawn the young palaeontologist from Florida to Halle, of all places.
Welcome to the club: a network for newbies
Employees and professors who are new to Martin Luther University don't get a freshers party – at best, they are actively supported at their work place. However, at the end of the workday, these newcomers usually have to fend for themselves. This is now set to change. In November, 25 members of the university founded the Newcomers' Club.
---
---