---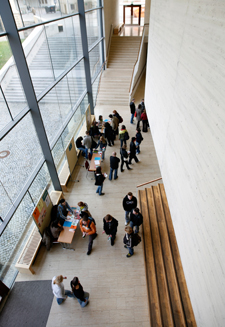 Creating knowledge since 1502
Green light for Protein Centre on the Weinberg Campus
On 18 December, the foundation stone for the university's new Protein Centre was laid. Representatives of Saxony-Anhalt's government were present for this event. Protein biochemistry is one of the core areas of research at MLU. The new research centre will cost about 40 million euros and is intended to strengthen direct collaboration among biochemistry, cell biology and medical working groups as well as joint efforts with non-university partners.
The new research building will have about 5,500 m² of floor space. After its completion in 2016, twelve professors from the Natural Sciences Faculties I and II and from the Medical Faculty will conduct research in the building with their working groups.
A Warming World May Spell Bad News for Honey Bees
Researchers have found that the spread of an exotic honey bee parasite –now found worldwide – is linked not only to its superior competitive ability, but also to climate, according to a new study published in the journal Proceedings of the Royal Society B. The team of researchers, including Myrsini Natsopoulou from Martin-Luther-Universität Halle-Wittenberg, who co-led the research alongside Prof. Dr. Dino McMahon from Freie Universität Berlin and the Federal Institute for Materials Research and Testing, believes that the parasite could become more prevalent in Europe in the future and their findings demonstrate the importance of both parasite competition and climate change in the spread of this emerging disease.
Ingolf Kühn one of the most frequently cited researchers in his field
Prof. Dr. Ingolf Kühn was put on the renowned list of "highly cited researchers" in June. Only scientists whose publications are very frequently cited make it onto this international list. Kühn`s research primarily looks at the biological invasion of foreign species and the effects of climate and land use change on ecosystem functions. His particularly successful articles are general overview articles on biostatistical methods or newly published datasets. Ingolf Kühn was jointly appointed professor of macroecology by MLU and the Helmholtz Centre for Environmental Research in March 2014.
Managed honeybees linked to new diseases in wild bees
Diseases that are common in managed honeybee colonies are now widespread in the UK's wild bumblebees, according to research published in Nature. The study suggests that some diseases are being driven into wild bumblebee populations directly from managed honeybees. Scientists from Royal Holloway University of London and the University of Exeter, working in collaboration with Professor Robert Paxton at Martin-Luther University Halle-Wittenberg, say the research provides vital information for beekeepers across the world to ensure honeybee management supports wild bee populations.
Publication in "Nature": a new class of quasicrystals has been discovered
Scientists at Martin Luther University have caused a sensation: physicist Prof. Dr. Wolf Widdra and his research team were able to prove that it is possible to form a quasicrystal from oxides. Previously such structures were only found in a few metal alloys and very soft colloidal systems. The materials, developed on this basis, have unusual and highly interesting properties from a technological point of view. The discovery considerably widens these new materials' field of application. The scientists' findings were published in the October issue of the renowned journal "Nature".
Over one million euros in EU funding for nano-researcher Georg Woltersdorf
Dr. Georg Woltersdorf has accepted an appointment at Martin Luther University. The renowned young physicist took over the Chair for Experimental Physics, Optics and Time-resolved Spectroscopy on 1 October thereby transferring to MLU his project "Electric Control of Magnetization Dynamics", which studies the properties of nanomagnets. The project is being funded by the European Research Council's ERC Starting Grant of €1.5 million euros over five years. The nanostructures Woltersdorf is studying could be used in new data storage methods.
Embryos: The animal-like secret of plants - Halle researchers are published in "Nature"
One thing is true for both embryos of vertebrates and humans: there is hardly any difference between them during a specific development phase. Beforehand and afterwards there are major differences between the species. This is referred to as the hourglass principle in embryonic development. Scientists at the Leibniz Institute for Plant Biochemistry (IPB) and Martin Luther University Halle-Wittenberg (MLU) have also discovered that this principle applies to plants as well. It is a mutual molecular phenomenon and this discovery will contribute to the understanding of the origin of biodiversity. The research findings of these scientists from Halle have been published in the renowned magazine "Nature".
---
---