---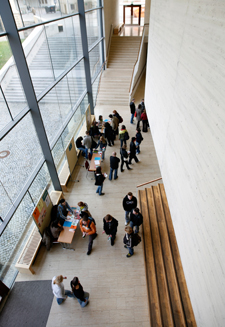 Creating knowledge since 1502
Our commitment to refugees
Martin Luther University Halle-Wittenberg supports refugees eager to study by providing the following counselling services and measures.[more]
New ideas for information technology: CRC at Halle university receives 10 million euros from DFG
The third round for cutting-edge research in nanoscience: The collaborative research centre (CRC) 762 "Functionality of Oxide Interfaces" at Martin Luther University Halle-Wittenberg (MLU) will receive 10 million euros in funding for a further four years from the German Research Foundation (DFG). MLU's partners are the University of Leipzig and the Max Planck Institute of Microstructure Physics in Halle.
Steintor-Campus: All moved in
Winter semester saw classes start up on the Steintor Campus for the first time. The campus is Halle University's fourth largest after University Square, the Francke Foundations and Weinberg Campus with its nearby hospital. The idea of concentrating all of the humanities and social sciences departments in one location has been 15 years in the making.
Humboldt Professorship for MLU and UFZ: Tiffany Knight bolsters biodiversity research
Martin Luther University Halle-Wittenberg (MLU) and the Helmholtz Centre for Environmental Research (UFZ) were successful in their nomination for Germany's most highly endowed research award, the Alexander von Humboldt Professorship. Tiffany Knight, a US-American from Washington University in St. Louis, is set to strengthen biodiversity research in Central Germany. The Humboldt Foundation will provide five million euros in funding over five years. Biologist Tiffany Knight is the third Humboldt professor at MLU taking her place alongside physicist Stuart Parkin and Germanist Elisabeth Décultot.
One and a half tonnes of valuable files: winner of the Humboldt Research Award brings wealth of data to Halle
The data of the oldest German collection of biographical interviews recorded on audio tape was believed to have gone missing years ago. Now it is stored at MLU. The transfer was facilitated by a Humboldt Research Award winner, Prof. Christina von Hodenberg, who is originally from Queen Mary University London and currently working in Halle.
Welcome to the club: a network for newbies
Employees and professors who are new to Martin Luther University don't get a freshers party – at best, they are actively supported at their work place. However, at the end of the workday, these newcomers usually have to fend for themselves. This is now set to change. In November, 25 members of the university founded the Newcomers' Club.
---
---