---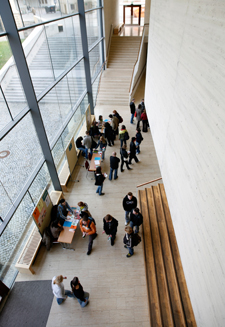 Creating knowledge since 1502
Humboldt Professorship for MLU and UFZ: Tiffany Knight bolsters biodiversity research
Martin Luther University Halle-Wittenberg (MLU) and the Helmholtz Centre for Environmental Research (UFZ) were successful in their nomination for Germany's most highly endowed research award, the Alexander von Humboldt Professorship. Tiffany Knight, a US-American from Washington University in St. Louis, is set to strengthen biodiversity research in Central Germany. The Humboldt Foundation will provide five million euros in funding over five years. Biologist Tiffany Knight is the third Humboldt professor at MLU taking her place alongside physicist Stuart Parkin and Germanist Elisabeth Décultot.
One and a half tonnes of valuable files: winner of the Humboldt Research Award brings wealth of data to Halle
The data of the oldest German collection of biographical interviews recorded on audio tape was believed to have gone missing years ago. Now it is stored at MLU. The transfer was facilitated by a Humboldt Research Award winner, Prof. Christina von Hodenberg, who is originally from Queen Mary University London and currently working in Halle.
"Science" Article: Researchers from Halle discover genetic basis for social behaviour in bees
The social behaviour of bees depends on the highly complex interactions of multiple gene groups rather than on one single gene. This has been established by an international team of researchers that includes scientists from Martin Luther University Halle-Wittenberg. The researchers analysed and compared ten bee genomes in order to identify a common genetic basis for the social behaviour of different species of bees.

DAAD to fund Halle University's exchange programme with China for another four years
The successful student exchange programme between the Institute of Economic Law of the Faculty of Law, Economics and Bussines and China's Southwest University of Political Science and Law in Chongqing will continue to receive another four years of high-level funding. Following a positive evaluation, the German Academic Exchange Service (DAAD) is once again providing the programme with around 500,000 EUR. Under the leadership of Professor Christian Tietje, the institute has supported an exchang­­e programme for students and scientists with the university in China since 2006.
Welcome to the club: a network for newbies
Employees and professors who are new to Martin Luther University don't get a freshers party – at best, they are actively supported at their work place. However, at the end of the workday, these newcomers usually have to fend for themselves. This is now set to change. In November, 25 members of the university founded the Newcomers' Club.
---
---