---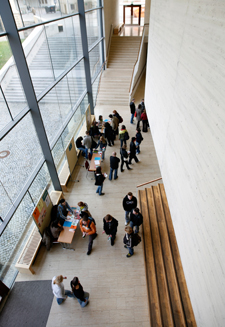 Homepage University
The latest news from around the MLU
Publication in "Nature": a new class of quasicrystals has been discovered
Scientists at Martin Luther University have caused a sensation: physicist Prof. Dr. Wolf Widdra and his research team were able to prove that it is possible to form a quasicrystal from oxides. Previously such structures were only found in a few metal alloys and very soft colloidal systems. The materials, developed on this basis, have unusual and highly interesting properties from a technological point of view. The discovery considerably widens these new materials' field of application. The scientists' findings were published in the October issue of the renowned journal "Nature".
Over one million euros in EU funding for nano-researcher Georg Woltersdorf
Dr. Georg Woltersdorf has accepted an appointment at Martin Luther University. The renowned young physicist took over the Chair for Experimental Physics, Optics and Time-resolved Spectroscopy on 1 October thereby transferring to MLU his project "Electric Control of Magnetization Dynamics", which studies the properties of nanomagnets. The project is being funded by the European Research Council's ERC Starting Grant of €1.5 million euros over five years. The nanostructures Woltersdorf is studying could be used in new data storage methods.
Embryos: The animal-like secret of plants - Halle researchers are published in "Nature"
One thing is true for both embryos of vertebrates and humans: there is hardly any difference between them during a specific development phase. Beforehand and afterwards there are major differences between the species. This is referred to as the hourglass principle in embryonic development. Scientists at the Leibniz Institute for Plant Biochemistry (IPB) and Martin Luther University Halle-Wittenberg (MLU) have also discovered that this principle applies to plants as well. It is a mutual molecular phenomenon and this discovery will contribute to the understanding of the origin of biodiversity. The research findings of these scientists from Halle have been published in the renowned magazine "Nature".
Kick-off of EU research project on biochar
Not only financial crises necessitate cross-border cooperation: A new EU research project on biochar has kicked off as part of the fight against climate change. Researchers from 23 countries and three companies are working on "Biochar Europe". The project is being coordinated by Prof. Dr. Bruno Glaser from Martin Luther University Halle-Wittenberg (MLU). It is part of the European Union's "COST Action" programme and will receive funding amounting to 500,000 euros over the next four years.
Central Germany to be centre of German and international biodiversity research
The Halle-Jena university alliance has successfully overcome the last obstacle in establishing a national research centre in the field of biodiversity. The research alliance's grant application has been accepted by the German Research Foundation (DFG) for iDiv, the German Centre for Integrative Biodiversity Research. "This is the result of hard work, internationally-recognized research and exemplary cooperation across borders," says Prof. Dr. Udo Sträter, Rector of Martin Luther University Halle-Wittenberg. DFG will give seven million euros annually for up to twelve years to the centre, whose headquarters are located in Leipzig.
The universities of Halle-Wittenberg und Jena to establish a centre for Polish studies
A selection committee headed by the Foundation for German-Polish Cooperation has decided to award the contract to Martin Luther University Halle-Wittenberg (MLU) and Friedrich Schiller University Jena for establishing a centre for Polish studies. The German Academic Exchange Service and the German-Polish Science Foundation are also funding the project along with the foundation. The level of excitement at MLU is high. It will establish a corresponding chair in connection with the Centre for Interdisciplinary Regional Studies.
Honorary doctorate awarded to Romano Prodi
The Faculty of Law and Economics at Martin Luther University Halle-Wittenberg (MLU) awarded Romano Prodi an honorary doctorate on 16 November 2011 in recognition of the contribution the former Prime Minister of Italy and President of the European Commission has made to economic science through his research and political work.
A Careful Examination of "Mechanisms of Elite Education"
The research group FOR 1612 will soon begin studying the "Mechanisms of Elite Education in the German Education System" after a decision was reached by the senate of the German Research Foundation (DFG) in July 2011. There are six projects in all – four at Martin Luther University, one at the Institute for Higher Education Research in Wittenberg and one at the University of Freiburg. Prof. Dr. Heinz-Hermann Krüger (MLU) is spokesman for the research group, while Prof. Dr. Werner Helsper (MLU) is deputy spokesman. The financing for the initial three funding years will amount to 2.2 million euros - 1.7 million euros alone will go to the projects in Halle.
---
---