---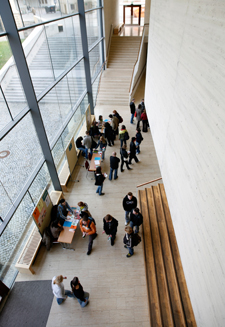 Creating knowledge since 1502
News from the past
Is a fossil from the Geisel Valley the first proof that crocodiles cared for their brood? How were five different crocodile species able to share a single habitat? Finds from the Geisel Valley date back to the Eocene Epoch and still hold many secrets. These secrets are attracting researchers from around the world, including Alexander Hastings. When speaking to Hastings about his work, it quickly becomes clear what has drawn the young palaeontologist from Florida to Halle, of all places.
Against risks and side effects
The new teaching pharmacy was launched at the Institute of Pharmacy at the beginning of winter semester. It took the project's initiator, Prof. Dr. Ralf Benndorf, a year to get it up and running. Now it will gradually be integrated into the education of future pharmacists. Students will learn how to properly advise customers under real conditions but in a protective setting.
Green light for Protein Centre on the Weinberg Campus
On 18 December, the foundation stone for the university's new Protein Centre was laid. Representatives of Saxony-Anhalt's government were present for this event. Protein biochemistry is one of the core areas of research at MLU. The new research centre will cost about 40 million euros and is intended to strengthen direct collaboration among biochemistry, cell biology and medical working groups as well as joint efforts with non-university partners.
The new research building will have about 5,500 m² of floor space. After its completion in 2016, twelve professors from the Natural Sciences Faculties I and II and from the Medical Faculty will conduct research in the building with their working groups.
Welcome to the club: a network for newbies
Employees and professors who are new to Martin Luther University don't get a freshers party – at best, they are actively supported at their work place. However, at the end of the workday, these newcomers usually have to fend for themselves. This is now set to change. In November, 25 members of the university founded the Newcomers' Club.
---
---