---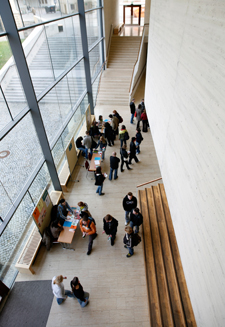 ---
Contact
Immatrikulationsamt - International Students Section
phone: +49-(0)345 55-2 15 19
phone: +49-(0)345 55-2 13 14
fax: +49-(0)345 55-2 70 52
international.students@uni-...
room 1, Infothek, Eingang links/ entrance left hand
Universitätsplatz 11, Löwengebäude
06108 Halle (Saale)
Sprechzeit/ office hours:
Montag - Donnerstag
10:00 -12:30 Uhr
Freitag nur nach Vereinbarung/ Friday by appointment only
postal address:
Martin-Luther-Universität Halle-Wittenberg
Abteilung 1
Immatrikulationsamt / Bereich Internationale Studierende
06099 Halle (Saale)
---
---
Login for editors
---
International Applicants
Range of Courses
Please see our range of courses for all available subjects and degrees (only available in German).
News
Please do give your uni-assist application number along your inquiry. Thank you.
Office hours during November 2017
From Monday, November 2nd until Friday, November 17th the International Students Section will be closed. There is no office hours taking place. Your requests via email of phone cannot be answered, unfortunately.
Common requests should be send to ssc@uni-halle.de
Thank you for understanding.
Special office hours foreigner's registration office Halle
The foreigner's registration office in Halle will offer special office hours for international students only on November 8th and 22nd 2017, 8am -3pm. You don't need an appointment at this day in Halle Neustadt.
RENEWED invitation for Studienkolleg entrance test - for summer semester 2018
In order to renew your application for the summer semester 2018, please write an email to andrea.schreiter@verwaltung.uni-halle.de until October 31st 2017.
The following details should be included: name, birth date, uni-assist application number, current post adress
The new invitation for the entrance test will automatically be send out in November. Another application via uni-assist is not necessary, if you mind the deadline.
onSET
onSET is an online language placement test in order to help you attending the right language course concerning your application at university. The test is free for reguees. Find more information and register here.
---
---