---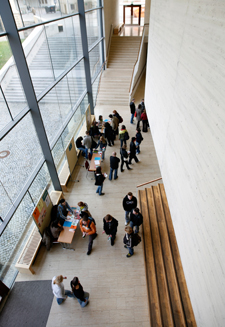 ---
Contact
Immatrikulationsamt - International Students Section
phone: +49-(0)345 55-2 15 19
phone: +49-(0)345 55-2 13 14
fax: +49-(0)345 55-2 70 52
international.students@uni-...
room 1, Infothek, Eingang links/ entrance left hand
Universitätsplatz 11, Löwengebäude
06108 Halle (Saale)
Sprechzeit/ office hours:
Montag - Donnerstag
10:00 -12:30 Uhr
Freitag nur nach Vereinbarung/ Friday by appointment only
postal address:
Martin-Luther-Universität Halle-Wittenberg
Abteilung 1
Immatrikulationsamt / Bereich Internationale Studierende
06099 Halle (Saale)
---
---
Login for editors
---
International Applicants
Range of Courses
Please see our range of courses for all available subjects and degrees (only available in German).
N E W S
Please do give your uni-assist application number along your inquiry. Thank you.
Multiple university application costs
Starting March 1st 2018, the costs for each additional university application via uni-assist will rise from 15 Euro to 30 Euro.
The first university application will be constantly 75 Euro.
Hints for Medicine, Dentistry and Pharmacy
Please apply for a higher subject semester (Fachsemester) - with an 'Anrechnugnsbescheid' - always via uni-assist.
German citizens (also 2nd citizenship), citizens of EU and the European Economic Area (EEA) as well as applicants with a German Higher Education entrance qualification who wish to apply for the first subject semester (1. Fachsemester) should apply via Stiftung Hochschulstart .
Please mind that applicants for the first subject semester (1. Fachsemester) will automatically be rejected, if they are older than 55 years at the time of application.
Applications for Bachelor Biology, Biochemistry and Psychology
Applicants without a German 'Higher Education Entrance Qualification' or with an International Baccaleureate should register at the application portal Hochschulstart. de in order to receive the required BID/BAN numbers. Those are necessary for coordinating the study programmes with DoSV (Dialogorientiertes Serviceverfahren).
After that, please register at the application portal uni-assist using the BID/BAN numbers (from Hochschulstart) and hand in your application documents to uni-assist.
This is also necessary for applicants who would have to pass the DSH course first.
onSET
onSET is an online language placement test in order to help you attending the right language course concerning your application at university. The test is free for reguees. Find more information and register here.
---
---