---
---
Contact
Prof. Dr. Christian Tietje
phone: 0345 55 23180
tietje@jura.uni-halle.de
Juristische und Wirtschaftswissenschaftliche Fakultät
06099 Halle (Saale)
---
---
Login for editors
---
Honorary doctorate awarded to Romano Prodi
The Faculty of Law and Economics at Martin Luther University Halle-Wittenberg (MLU) awarded Romano Prodi an honorary doctorate on 16 November 2011 in recognition of the contribution the former Prime Minister of Italy and President of the European Commission has made to economic science through his research and political work.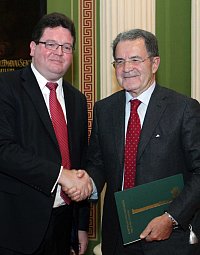 Christian Tietje, Dean of the Faculty of Law and Economics at Martin Luther University and Romano Prodi (Photo: Maike Glöckner)
"Romano Prodi's outstanding service lies in his ties to science and politics. In concrete terms it was three areas of his impressive CV that prompted us honour Prodi with the honorary doctorate: His work as a scientist, as an Italian politician and as the president of the European Commission," says Prof. Dr. Christian Tietje, Dean of the Faculty of Law and Economics on the occasion of the ceremony. "We are honouring a prominent figure of contemporary history who impressively united scientific rationality with visionary perspective and political leadership."
"We are pleased that Romano Prodi – one of the most distinguished Europeans of his generation - was able to make it to Halle today and accept the honorary doctorate of the Faculty of Law and Economics," emphasized Prof. Dr. Udo Sträter, Rector of the MLU.
Prodi took the occasion of the tribute to stress the important role universities play in the unification of Europe: "I am truly delighted and grateful for this honorary degree from a distinguished academic institution such as the University of Halle. Cultural relations between the Latin and the German worlds are an essential condition for surmounting the present obstacles towards the construction of a revitalized Europe. The university has indeed both the duty and the privilege of playing the role of cultural vanguard in the process of further cooperation and integration among European populations."
During the ceremony Prodi answered students' questions including those from exchange students from his own alma mater, the Universitá Cattolica del Sacro Cuore (the Catholic University of the Sacred Heart) in Milan. Since Winter Semester 2010 it has been offering, in cooperation with the MLU, the master's programme "European Integration and Regional Development". Currently twelve students from Germany and Italy are enrolled in the trilingual course.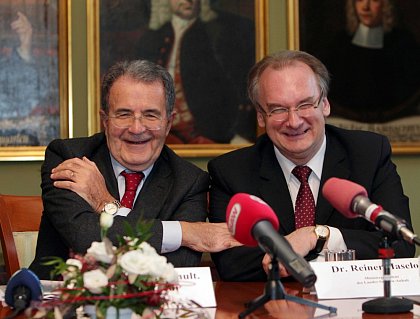 Romano Prodi and prime minister Reiner Haseloff (Photo: Maike Glöckner)
---
---