---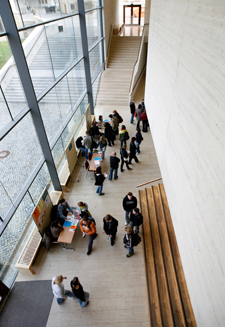 Creating knowledge since 1502
Coronavirus pandemic: Current information from the MLU
The university offers information for MLU members on the following webpages: www.uni-halle.de/coronavirus. There you will find, among other things:
Less precipitation means less plant diversity
Water is a scarce resource in many of the Earth's ecosystems. This scarcity is likely to increase in the course of climate change. This, in turn, might lead to a considerable decline in plant diversity. Using experimental data from all over the world, scientists from the Helmholtz Centre for Environmental Research (UFZ), the German Centre for Integrative Biodiversity Research (iDiv), and the Martin Luther University Halle-Wittenberg (MLU) have demonstrated for the first time that plant biodiversity in drylands is particularly sensitive to changes in precipitation. In an article published in "Nature Communications", the team warns that this can also have consequences for the people living in the affected regions.
Scientists identify genetic networks for spikelet formation in barley
The barley inflorescence, called spike, is crucial for grain yield formation. Therefore, it is of great importance to better understand the processes of spike and spikelet development. This also involves the question how individual genes for barley spike formation interact. In a long-standing research project, an international research team led by the Leibniz Institute of Plant Genetics and Crop Plant Research (IPK) and the Martin Luther University Halle-Wittenberg (MLU) has therefore used lasers to excise and analyse the finest tissue parts involved in barley spikelet organ formation. The results are of immense importance for further comparative studies among other grass or cereal crops and have recently been published in the journal "Science Advances".
Tree plantations offer only limited value for biodiversity conservation
Tree plantations are supposed to help compensate the loss of pristine forest habitats. However, their contribution to biodiversity conservation is limited: For example, plantations host a significantly lower number of beetle species as well as individuals than old-growth forests. This was found by a global analysis published in "Forest Ecology and Management" and led by the German Centre for Integrative Biodiversity Research (iDiv), Friedrich Schiller University Jena (FSU) and Martin Luther University Halle-Wittenberg (MLU).
Our commitment to refugees
Martin Luther University Halle-Wittenberg supports refugees eager to study by providing the following counselling services and measures.
---
---