---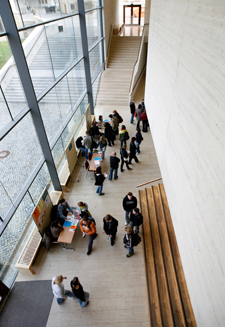 Creating knowledge since 1502
Coronavirus pandemic: Current information from the MLU
The university offers information for MLU members on the following webpages: www.uni-halle.de/coronavirus. There you will find, among other things:
Care for cats? So did people along the Silk Road more than 1,000 years ago
Common domestic cats, as we know them today, might have accompanied Kazakh pastoralists as pets more than 1,000 years ago. This has been indicated by new analyses done on an almost complete cat skeleton found during an excavation along the former Silk Road in southern Kazakhstan. An international research team led by Martin Luther University Halle-Wittenberg (MLU), Korkyt-Ata Kyzylorda State University in Kazakhstan, the University of Tübingen and the Higher School of Economics in Russia has reconstructed the cat's life, revealing astonishing insights into the relationship between humans and pets at the time. The study will appear in the journal "Scientific Reports".
Nutrients in microalgae: an environmentally friendly alternative to fish
Microalgae could provide an alternative source of healthy omega-3 fatty acids for humans while also being more environmentally friendly to produce than popular fish species. This is the result of a new study by scientists from Martin Luther University Halle-Wittenberg (MLU). The study was recently published in the "Journal of Applied Phycology" and offers an initial indication of the environmental effects of producing microalgae in Germany.
Spintronics: Faster data processing through ultrashort electric pulses
Physicists at Martin Luther University Halle-Wittenberg (MLU) and Lanzhou University in China developed a simple concept that could improve significantly magnetic-based data processing. Using ultrashort electric pulses in the terahertz range, data can be written, read and erased very quickly. This would make data processing faster, more compact and energy efficient. The researchers confirmed their theory by running complex simulations and the results were published in the journal "NPG Asia Materials".
Implants: Can special coatings reduce complications after implant surgery?
New coatings on implants could help make them more compatible. Researchers at the Martin Luther University Halle-Wittenberg (MLU) have developed a new method of applying anti-inflammatory substances to implants in order to inhibit undesirable inflammatory reactions in the body. Their study was recently published in the "International Journal of Molecular Sciences".
"Science" study: Chemists achieve breakthrough in the synthesis of graphene nanoribbons
Graphene Nanoribbons might soon be much easier to produce. An international research team led by Martin Luther University Halle-Wittenberg (MLU), the University of Tennessee and Oak Ridge National Laboratory in the U.S. has succeeded in producing this versatile material for the first time directly on the surface of semiconductors. Until now, this was only possible on metal surfaces. The new approach also enables scientists to customise the properties of the nanoribbons. Storage technology is one of the potential applications of the material. The research team reports on its results in the current issue of "Science".
Chronobiology: researchers identify genes that tell plants when to flower
How do plants know when it is time to flower? Researchers at Martin Luther University Halle-Wittenberg (MLU) have studied this question and identified two genes that are key to this process. They were able to show that the ELF3 and GI genes control the internal clock of the plants that monitors the length of daylight and determine when it is the right time to flower. The findings could help to breed plants that are better adapted to their environments. The study was published in "The Plant Journal".
Our commitment to refugees
Martin Luther University Halle-Wittenberg supports refugees eager to study by providing the following counselling services and measures.
---
---