---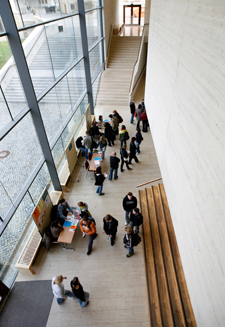 Creating knowledge since 1502
Coronavirus pandemic: Current information from the MLU
The university offers information for MLU members on the following webpages: www.uni-halle.de/coronavirus. There you will find, among other things:
Spintronics: Physicists develop miniature terahertz sources
Researchers at Martin Luther University Halle-Wittenberg (MLU) and Freie Universität Berlin have developed a new, simple approach for generating terahertz radiation. Strong optical laser pulses enable terahertz electromagnetic fields to be generated directly at a specific point. The team has published its findings in the journal "ACS Applied Nano Materials". Potential applications for terahertz radiation are wide ranging - from materials testing to communications and security technology.
Researchers spot a "golden" bear while studying endangered spectacled bears in Peru
The number of spectacled bears in Peru might be larger than suspected, a new study in "URSUS" suggests. A team of researchers from Gothenburg University, Martin Luther University Halle-Wittenberg (MLU) and Stony Brook University studied the population of the endangered species in Northern Peru. By identifying individuals through facial patterns, they were able to estimate the population density in the area and identify an unknown hotspot. Intriguingly, the researchers also observed the first "golden" bear.
Scientists develop alternative cement with low carbon footprint
Researchers at the Martin Luther University Halle-Wittenberg (MLU) in Germany and the Brazilian University of Pará have developed a climate-friendly alternative to conventional cement. Carbon dioxide (CO2) emissions can be reduced during production by up to two thirds when a previously unused overburden from bauxite mining is used as a raw material. The alternative was found to be just as stable as the traditional Portland cement.
Solar cells: Layer of three crystals produces a thousand times more power
The photovoltaic effect of ferroelectric crystals can be increased by a factor of 1,000 if three different materials are arranged periodically in a lattice. This has been revealed in a study by researchers at Martin Luther University Halle-Wittenberg (MLU). They achieved this by creating crystalline layers of barium titanate, strontium titanate and calcium titanate which they alternately placed on top of one another. Their findings, which could significantly increase the efficiency of solar cells, were published in the journal "Science Advances".
Love: How the feeling of power determines happy relationships
Want to have a happy relationship? Make sure both partners feel they can decide on issues that are important to them. Objective power measured by income, for example, doesn't seem to play a big role, according to a new study in the "Journal of Social and Personal relationships" by the Martin Luther University Halle-Wittenberg (MLU) and the University of Bamberg. Instead, how lovers perceive power dynamics in their relationship is most important for relationship satisfaction.
Sports: Men and women react differently to a missing audience
Without an audience, men run slower and women faster: The lack of spectators during the coronavirus pandemic appears to have had a noticeable effect on the performance of athletes at the 2020 Biathlon World Cup, a new study by Martin Luther University Halle-Wittenberg (MLU) in "Psychology of Sport and Exercise" shows. According to the new analysis, women also performed better in complex tasks, such as shooting, when an audience was present while men did not.
---
---