---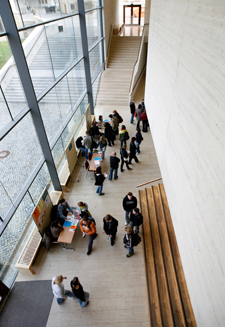 Creating knowledge since 1502
Coronavirus pandemic: Current information from the MLU
The university offers information for MLU members on the following webpages: www.uni-halle.de/coronavirus. There you will find, among other things:
Researchers develop a new approach to detect pancreatic cancer
A protein found commonly in human blood might help with the detection of hard-to-diagnose pancreatic tumours. Researchers at Martin Luther University Halle-Wittenberg (MLU), the Alfried Krupp Hospital in Essen and the University of Witten/Herdecke have developed approach using the protein's structure and its function as a proxy for this. In a first study in "ACS Pharmacology & Translational Science", the team shows how its method can also be used to differentiate between benign and malignant tumours.
"Science": Soil biodiversity should be a part of conservation efforts
A quarter of all known species live in the soil. Life above ground depends on the soil and its countless inhabitants. Yet, global strategies to protect biodiversity have so far paid little attention to this habitat. In the journal "Science", an international team of researchers led by the German Centre for Integrative Biodiversity Research (iDiv), the Martin Luther University Halle-Wittenberg (MLU), Leipzig University (UL) and Colorado State University calls for greater consideration of soils in the renegotiation of international biodiversity strategies. Their relevance must be recognised far beyond agriculture.
Evolution in a test tube: these bacteria survive on deadly copper surfaces
The descendants of regular wild-type bacteria can evolve to survive for a long time on metallic copper surfaces that would usually kill them within a few minutes. An international research team led by Martin Luther University Halle-Wittenberg (MLU) and the Bundeswehr Institute of Microbiology was able to produce these tiny survivalists in the lab and has been able to study them more closely. The team reports on its findings in "Applied and Environmental Microbiology".
Researchers develop new combined process for 3D printing
Chemists at Martin Luther University Halle-Wittenberg (MLU) have developed a way to integrate liquids directly into materials during the 3D printing process. This allows, for example, active medical agents to be incorporated into pharmaceutical products or luminous liquids to be integrated into materials, which allow monitoring of damage. The study was published in "Advanced Materials Technologies".
What was life for dinosaurs like in Europe? Graphic novel explains new scientific findings
The small dinosaur Europasaurus lived 154 million years ago in Central Europe alongside other dinosaurs, prehistoric crocodiles and mammals. Its world comes alive again in the graphic novel "Europasaurus – Life on Jurassic Islands". The book contains 275 original illustrations and several stories based on the scientific work of palaeontologists like Dr Oliver Wings from Martin Luther University Halle-Wittenberg (MLU). Working together with the paleo-artist Joschua Knüppe and with financial support from the Volkswagen Foundation, the researcher has created a gateway into this primeval world.
Our commitment to refugees
Martin Luther University Halle-Wittenberg supports refugees eager to study by providing the following counselling services and measures.
---
---