---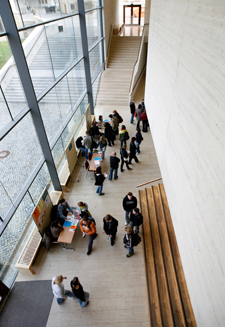 Creating knowledge since 1502
Information on the novel coronavirus
The university offers information for MLU members on the following webpages.[ mehr ... ]
Mutation reduces energy waste in plants
In a way, plants are energy wasters: in order to protect themselves from excessive electron transport, they continuously quench light energy and don't use it for photosynthesis and biomass production. A mutation can make them work more efficiently, as was discovered by a team from Ruhr-Universität Bochum (RUB) and Martin Luther University Halle-Wittenberg (MLU). To this end, the team identified several thousand proteins, determined their respective amounts in mutant and reference lines and combined the findings with measurements of photosynthetic performance. Their findings were published in the journal "Nature Communications".
Small horses got smaller, big tapirs got bigger 47 million years ago
The former coalfield of Geiseltal in Saxony-Anhalt has yielded large numbers of exceptionally preserved fossil animals, giving palaeontologists a unique window into the evolution of mammals 47 million years ago. A team led by the University of Tübingen and the Martin Luther University Halle-Wittenberg (MLU) has shown that the body size of two species of mammals developed in opposite directions. The study was published in "Scientific Reports".
Magnetic whirls in future data storage devices
Magnetic (anti)skyrmions are microscopically small whirls that are found in special classes of magnetic materials. These nano-objects could be used to host digital data by their presence or absence in a sequence along a magnetic stripe. A team of scientists from the Max Planck institutes (MPI) of Microstructure Physics in Halle and for Chemical Physics of Solids in Dresden and the Martin Luther University Halle-Wittenberg (MLU) has now made the observation that skyrmions and antiskyrmions can coexist bringing about the possibility to expand their capabilities in storage devices. The results were published in the scientific journal "Nature Communications".
Pea instead of soy in animal feed
By far the largest proportion of soybeans grown worldwide is used for animal feed. This is particularly problematic because soybean cultivation inflicts massive environmental damage on supplier countries. The Institute of Agricultural and Nutritional Sciences at Martin Luther University Halle-Wittenberg (MLU) is therefore currently researching domestic alternatives as part of the SilaToast project. This project is conducted jointly with the Saxon State Office for the Environment, Agriculture and Geology (LfULG), with the aim of determining what special handling alternative feedstuffs will require to equal the nutritional value of soybeans.
Short, intensive training improves children's health
Many children don't get enough exercise and as a result often have health problems such as being overweight and having high blood pressure. A research team from Martin Luther University Halle-Wittenberg (MLU) and the Medical School Berlin (MSB) has found that simple methods can be used to combat this. They integrated high-intensity interval training (HIIT) into standard physical education and observed improvements in children's health within a very short period of time.
Pollination is better in cities than in the countryside
Flowering plants are better pollinated in urban than in rural areas. This has now been demonstrated experimentally by a team of scientists led by the Martin Luther University Halle-Wittenberg (MLU), the German Centre for Integrative Biodiversity Research (iDiv) and the Helmholtz Centre for Environmental Research (UFZ). Although the scientists found a greater diversity of flying insects in the countryside, more bees in cities resulted in more pollinated flowers of test plants. By far the most industrious pollinators were bumble bees, most likely benefitting from the abundant habitats available in the city. To promote pollination, the researchers recommend to take into greater account the needs of bees when landscape planning – both in cities and in the countryside. Their results have been published in the journal "Nature Communications".
Researchers discover unique polymer fibres
Strong and tough yet as light as a feather – materials with this exceptional combination of properties are urgently needed in many industrial sectors and in medicine, as well as being of great interest for scientific research. A research team from the University of Bayreuth, Forschungszentrum Jülich, Martin Luther University Halle-Wittenberg (MLU) and other partners in Germany, China, and Switzerland, has now developed a formula for the easy-to-handle preparation of polymer fibres with precisely these properties. The scientists have published their findings in the journal "Science".
Our commitment to refugees
Martin Luther University Halle-Wittenberg supports refugees eager to study by providing the following counselling services and measures.
---
---