---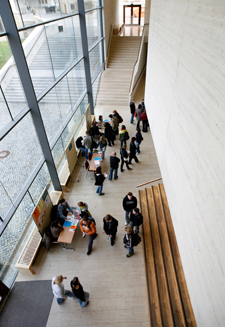 Creating knowledge since 1502
Coronavirus pandemic: Current information from the MLU
The university offers information for MLU members on the following webpages: www.uni-halle.de/coronavirus. There you will find, among other things:
Spintronics: Researchers show how to make non-magnetic materials magnetic
A complex process can modify non-magnetic oxide materials in such a way to make them magnetic. The basis for this new phenomenon is controlled layer-by-layer growth of each material. An international research team with researchers from Martin Luther University Halle-Wittenberg (MLU) reported on their unexpected findings in the journal "Nature Communications".
Thermal storage units that repair themselves
In future, paraffin wax could help to make underground thermal storage units more durable. Such systems are used, for example, to store solar energy over a longer period of time. In a new study, geologists from Martin Luther University Halle-Wittenberg (MLU) investigated the extent to which paraffin wax can be incorporated into the shell of the storage tanks and whether this can prevent heat loss and close fissures. The research team reports on its findings in the journal "PLOS ONE".
Smaller habitats worse than expected for biodiversity, study finds
Biodiversity's ongoing global decline has prompted policies to protect and restore habitats to minimize animal and plant extinctions. However, biodiversity forecasts used to inform these policies are usually based on assumptions of a simple theoretical model describing how the number of species changes with the amount of habitat. A new study published in the journal Nature shows that the application of this theoretical model underestimates how many species go locally extinct when habitats are lost. Scientists from the German Centre for Integrative Biodiversity Research (iDiv), Martin Luther University Halle-Wittenberg (MLU) and the Helmholtz Centre for Environmental Research (UFZ) used data from 123 studies from across the world to set the path for the next generation of biodiversity forecasts in the face of habitat loss and restoration.
Novel test method detects coronavirus in highly diluted gargle samples
Pharmacists at Martin Luther University Halle-Wittenberg (MLU) have succeeded in detecting small amounts of coronavirus SARS-CoV-2 using mass spectrometry. For their investigation, they used gargle solutions of COVID-19 patients. The novel method might supplement conventional tests. It is currently undergoing improvements and might be available as standard diagnostic tool for COVID-19 in the future. Initial results have been published in the "Journal of Proteome Research".
Mystery about cause of genetic disease in horses
Warmblood fragile foal syndrome is a severe, usually fatal, genetic disease that manifests itself after birth in affected horses. Due to the defect, the connective tissue is unstable. Under force, for instance, the skin tears from the tissue underneath and the joints can suffer dislocation. A research team from the Universities of Göttingen and the Martin Luther University Halle-Wittenberg (MLU) has now been able to prove that the disease did not stem from the English thoroughbred stallion Dark Ronald XX, which had been the assumption until now. The results have been published in the journal "Animal Genetics".
Electron cryo-microscopy: Using inexpensive technology to produce high-resolution images
Biochemists at Martin Luther University Halle-Wittenberg (MLU) have used a standard electron cryo-microscope to achieve surprisingly good images that are on par with those taken by far more sophisticated equipment. They have succeeded in determining the structure of ferritin almost at the atomic level. Their results were published in the journal "PLOS ONE".
Our commitment to refugees
Martin Luther University Halle-Wittenberg supports refugees eager to study by providing the following counselling services and measures.
---
---