---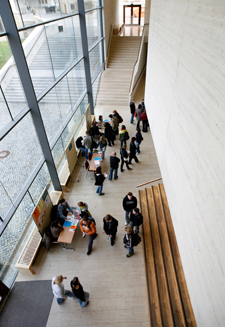 Creating knowledge since 1502
A sauna session is just as exhausting as moderate exercise
Your blood pressure does not drop during a sauna visit – it rises, as well as your heart rate. This increase is even comparable to the effect of a short, moderate workout. This is the result of a new study conducted by researchers at Martin Luther University Halle-Wittenberg and the Medical Center Berlin. For their study, the researchers placed their participants both in a sauna and on a bicycle ergometer.
First-class protein research: research training group established at MLU
A new research training group will start conducting research on proteins at the Martin Luther University in June 2019. Its research will focus on a specific class of proteins that is responsible for conducting many important functions in the human body and is also involved in the development of major diseases. The research training group (RTG) 2467 "Intrinsically Disordered Proteins - Molecular Principles, Cellular Functions, and Diseases" will receive about four million euros in funding from the Deutsche Forschungsgemeinschaft (DFG, German Research Foundation).
Polymers: Third round of funding for Collaborative Research Centre
The Collaborative Research Centre SFB/Transregio 102 (CRC) "Polymers under Multiple Constraints" can continue its work at Martin Luther University until 2023. The Deutsche Forschungsgemeinschaft (DFG, German Research Foundation) is providing nine million euros as part of a third round of funding for the CRC. In the new round, the polymer scientists will broaden their scope to investigate so-called hybrid polymers, a combination of synthetic polymers and proteins.
Cement: Using industrial residues to produce carbon neutral alternatives
Producing cement takes a big toll on our climate: Around eight per cent of annual global carbon dioxide emissions can be attributed to this process. However, the demand for cement continues to rise. A team of geoscientists from Martin Luther University has found a way to produce more environmentally friendly and sustainable alternatives. In the journal "Construction and Building Materials" they describe how industrial residues can be used to produce high-quality, climate-friendly materials.
"Nature Communications": physicists discover new type of spin waves
Advances in IT technologies are hampered by the ever increasing demand for energy and by fundamental limits on miniaturization. Energy dissipation mostly going into heating up the environment is also a challenge. A new type of spin waves recently discovered by physicists at Martin Luther University and Lanzhou University in China may serve to overcome these obstacles.
Scientists call for a paradigm shift in restoration projects in "Science"
Regardless of whether we are dealing with a floodplain landscape or an entire national park, the success of a restoration project depends on more than just the reintroduction of individual plant or animal species into an area. An international team of researchers led by Martin Luther University and the German Centre for Integrative Biodiversity Research reveals it is more a matter of helping the damaged ecosystem to regenerate and sustain itself. In the current issue of the journal Science the researchers describe how rewilding measures can be better planned and implemented - and the benefits this can have on humans.
Neonicotinoids: Honeybees are much more robust than bumblebees
The neonicotinoid clothianidin affects different species of bees in different ways. While it has no demonstrably negative effect on honeybees, it disrupts the growth of bumble bees and threatens the survival of entire colonies. However, the insecticide does not make either species more susceptible to diseases and pathogens, as a massive field study in Sweden shows. The international team, including scientists from Martin Luther University and the Swedish University of Agricultural Sciences.
Our commitment to refugees
Martin Luther University Halle-Wittenberg supports refugees eager to study by providing the following counselling services and measures.
---
---