---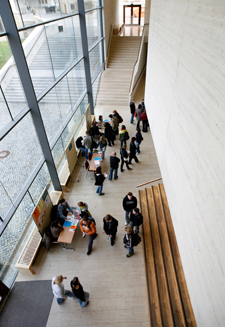 Creating knowledge since 1502
Coronavirus pandemic: Current information from the MLU
The university offers information for MLU members on the following webpages: www.uni-halle.de/coronavirus. There you will find, among other things:
We donít know how most mammals will respond to climate change
A new scientific review has found there are significant gaps in our knowledge of how mammal populations are responding to climate change, particularly in regions most sensitive to climate change. The study was initialised through sDiv, the synthesis centre of the German Centre for Integrative Biodiversity Research (iDiv), involving researchers from the University of Zurich, the Martin Luther University Halle-Wittenberg (MLU), the Helmholtz Centre for Environmental Research (UFZ) and others. The findings are published in the "Journal of Animal Ecology".
What is killing bald eagles in the U.S.?
Bald eagles, as well as other wildlife, have been succumbing to a mysterious neurodegenerative disease in the southern United States since the 1990s. New research by Martin Luther University Halle-Wittenberg (MLU) in Germany and the University of Georgia, USA, identifies the cause of these deaths: a toxin produced by cyanobacteria that grow on invasive aquatic plants. The problem is potentially exacerbated by herbicides used to control those plants. The results were published in "Science".
Upgrade for CRISPR/Cas: Researchers knock out multiple genes in plants at once
Using an improved version of the gene editing tool CRISPR/Cas9, researchers knocked out up to twelve genes in plants in a single blow. Until now, this had only been possible for single or small groups of genes. The approach was developed by researchers at Martin Luther University Halle-Wittenberg (MLU) and the Leibniz Institute of Plant Biochemistry (IPB). The method makes it easier to investigate the interaction of various genes. The study appeared in "The Plant Journal".
Sheep vs. goats: Who are the best problem solvers?
When it comes to adapting to new situations, goats are a step ahead. Compared to sheep, they can more quickly adapt to changing environmental conditions. These are the findings of a new study by researchers at Martin Luther University Halle-Wittenberg (MLU) and the Leibniz Institute for Farm Animal Biology (FBN) which were published in "Royal Society Open Science". The study investigated how well the animals were able to navigate around obstacles to reach food.
Our commitment to refugees
Martin Luther University Halle-Wittenberg supports refugees eager to study by providing the following counselling services and measures.
---
---