---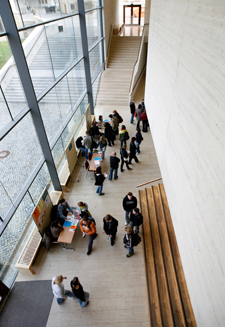 Creating knowledge since 1502
Study: How financial crises lower life satisfaction and how to prevent this
Financial crises not only result in severe disruptions to the economic system, they also affect people`s life satisfaction. A new study by Martin Luther University and the Halle Institute for Economic Research shows that weaker members of society are more affected by increased uncertainty during crisis times, even if they may not be speculating on the stock market themselves. This could potentially also lower their propensity to consume, thereby intensifying the impact of a financial crisis.
A solarium for hens? How to increase the vitamin D content of eggs
Many people suffer from a vitamin D deficiency. This can result in brittle bones and an increased risk of respiratory diseases. Chicken eggs are a natural source of vitamin D and one way to, at least partially, compensate for this deficiency. A team of nutritionists and agricultural scientists at Martin Luther University has found a new way to further increase the vitamin D content of eggs: by exposing chickens to UV light.
A sauna session is just as exhausting as moderate exercise
Your blood pressure does not drop during a sauna visit – it rises, as well as your heart rate. This increase is even comparable to the effect of a short, moderate workout. This is the result of a new study conducted by researchers at Martin Luther University Halle-Wittenberg and the Medical Center Berlin. For their study, the researchers placed their participants both in a sauna and on a bicycle ergometer.
First-class protein research: research training group established at MLU
A new research training group will start conducting research on proteins at the Martin Luther University in June 2019. Its research will focus on a specific class of proteins that is responsible for conducting many important functions in the human body and is also involved in the development of major diseases. The research training group (RTG) 2467 "Intrinsically Disordered Proteins - Molecular Principles, Cellular Functions, and Diseases" will receive about four million euros in funding from the Deutsche Forschungsgemeinschaft (DFG, German Research Foundation).
Polymers: Third round of funding for Collaborative Research Centre
The Collaborative Research Centre SFB/Transregio 102 (CRC) "Polymers under Multiple Constraints" can continue its work at Martin Luther University until 2023. The Deutsche Forschungsgemeinschaft (DFG, German Research Foundation) is providing nine million euros as part of a third round of funding for the CRC. In the new round, the polymer scientists will broaden their scope to investigate so-called hybrid polymers, a combination of synthetic polymers and proteins.
Cement: Using industrial residues to produce carbon neutral alternatives
Producing cement takes a big toll on our climate: Around eight per cent of annual global carbon dioxide emissions can be attributed to this process. However, the demand for cement continues to rise. A team of geoscientists from Martin Luther University has found a way to produce more environmentally friendly and sustainable alternatives. In the journal "Construction and Building Materials" they describe how industrial residues can be used to produce high-quality, climate-friendly materials.
Our commitment to refugees
Martin Luther University Halle-Wittenberg supports refugees eager to study by providing the following counselling services and measures.
---
---