---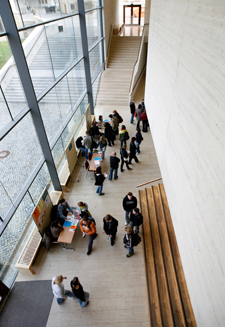 Creating knowledge since 1502
Coronavirus pandemic: Current information from the MLU
The university offers information for MLU members on the following webpages: www.uni-halle.de/coronavirus. There you will find, among other things:
Easy, inexpensive, efficient: researchers improve efficacy of new malaria drug
Artemisone is a promising substance in the fight against malaria. However, the active ingredient has yet to be used due its instability and because it is not easily absorbed by the body. A team from Martin Luther University Halle-Wittenberg (MLU) and the Hebrew University of Jerusalem has now pushed this a bit further. They have developed a very simple method for preparing the active ingredient that makes it easier to administer and store. The researchers report on their work in the scientific journal "Antimicrobial Agents and Chemotherapy".
Study: Important contribution to spintronics has received little consideration until now
The movement of electrons can have a significantly greater influence on spintronic effects than previously assumed. This discovery was made by an international team of researchers led by physicists from the Martin Luther University Halle-Wittenberg (MLU). Until now, a calculation of these effects took, above all, the spin of electrons into consideration. The study was published in the journal "Physical Review Research" and offers a new approach in developing spintronic components.
Researchers find toxin from maple tree in cow's milk
Cows can pass on the hypoglycin A toxin through their milk, a study by the Martin Luther University Halle-Wittenberg (MLU) and the Leibniz Institute of Plant Biochemistry (IPB) in "Toxins" shows. The substance can cause severe symptoms in humans and animals. Small amounts of the toxin were detected in the raw milk of cows that grazed in a pasture exposed to sycamore maple. The team calls for further investigations to realistically assess the potential dangers.
Urban life is not to everyone's taste
Rapidly expanding urban habitats are likely to endanger a large number of butterfly species in the long term. This is reported by scientists from the German Centre for Integrative Biodiversity Research (iDiv), the Martin Luther University Halle-Wittenberg (MLU) and the Friedrich Schiller University Jena (FSU) in the scientific journal Global Change Biology. Generalists that tolerate large temperature fluctuations and feed on many different plants are most likely to benefit from human-modified habitats. In order to preserve biodiversity, urban and spatial planning should take the needs of specialised butterfly species into account, the authors recommend
Promoting young talent in Chemistry: new research training group launched at MLU
The Research Training Group (RTG) 2670 "Beyond Amphiphilicity: Self-organisation of soft matter via multiple noncovalent interactions" has begun its work at Martin Luther University Halle-Wittenberg (MLU). Amphiphilicity, a fundamental ordering principle for molecules, will be the starting point of the future research projects. The Deutsche Forschungsgemeinschaft (German Research Foundation, DFG) will provide a first round of funding for the project of around 4.5 million euros until 2025
Our commitment to refugees
Martin Luther University Halle-Wittenberg supports refugees eager to study by providing the following counselling services and measures.
---
---