---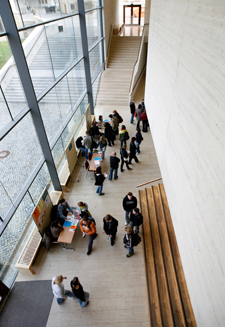 Creating knowledge since 1502
---
The War in Ukraine: The Latest Information from MLU
The University of Halle is deeply appalled by the war in Ukraine and strongly condemns Russia's attack, which is in violation of international law.
The university has consolidated information, offers of assistance, and ways to donate on a website it has set up for members of MLU: www.uni-halle.de/ukraine
Coronavirus pandemic: Current information from the MLU
The university offers information for MLU members on the following webpages: www.uni-halle.de/coronavirus. There you will find, among other things:
Digital Dermatitis: genes influence risk for global cattle disease
Two tiny mutations in the genome of cattle likely cause some animals to be significantly more susceptible to Digital Dermatitis, an extremely painful disease that is widespread in cattle kept indoors. The two candidate genes were discovered by an international team of researchers from the MLU, the University of Göttingen and the University of Wisconsin-Madison in the US. The scientists analysed data from more than 5,000 dairy cows. The findings could help improve the breeding of disease-resistant animals. The results of the study were published in the journal "Frontiers in Genetics".
A history of rye: How early farmers made plants genetically less flexible
Over the course of many thousands of years, humans turned rye into a cultivated plant. In doing so, they have considerably limited its genetic flexibility. Today, wild rye not only has a more diverse genetic make-up, it is able to recombine this more freely than its domesticated cousins. A research team led by Martin Luther University Halle-Wittenberg (MLU) and the Leibniz Institute of Plant Genetics and Crop Plant Research (IPK) has demonstrated this in a new study published in the scientific journal "Molecular Biology and Evolution". The results also explain why cultivated rye is less resistant than wild species to developments such as climate change.
Materials science: How ultrathin polymer films can be used for storage technology
Precisely applied mechanical pressure can improve the electronic properties of a widely used polymer material. This requires that the material be mechanically processed to an accuracy of a few nanometres, a team from Martin Luther University Halle-Wittenberg (MLU) writes in the scientific journal "Advanced Electronic Materials". In their new study, the researchers show how this previously unknown physical effect works and how it could also be used for new storage technologies. The team has also succeeded in sketching the coat of arms of the city of Halle as an electrical pattern with a spatial resolution of 50 nanometres in the material.
Birds in North America struggle to keep pace with climate change
Many North American bird species increasingly live in places that do not correspond to their preferred climatic conditions. This phenomenon of climate decoupling is particularly pronounced for species that are specialised in certain habitats. Although the climate may now be more favourable for them elsewhere, these animals sometimes remain in their ancestral habitats. More than a quarter of all species are affected by this, as a team from the German Centre for Integrative Biodiversity Research (iDiv), the University of Leipzig, the Martin Luther University Halle-Wittenberg (MLU) and the Doñana Biological Station reports in "Nature Ecology & Evolution".
Impostor Phenomenon: When self-doubt gets the upper hand
People who systematically underestimate themselves and their own performance suffer from so-called Impostor Phenomenon. They think that any success is due to external circumstances or just luck and chance. Those people live in constant fear that their "deception" will be exposed. In a new study in "Personality and Individual Differences" psychologists from Martin Luther University Halle-Wittenberg (MLU) show for the first time that even under real-life conditions the phenomenon appears regardless of age, gender, and intelligence. Up until now it had only been investigated on the basis of surveys or individual cases.
Evolution: New Emmy Noether group investigates interactions between bacteria and insects
The German Research Foundation (DFG) has accepted the biologist Dr Michael Gerth into the Emmy Noether programme and will fund his work with up to 1.4 million euros in the coming years. With this funding, Gerth will move from the UK to the Martin Luther University Halle-Wittenberg (MLU) and establish his own working group at the German Centre for Integrative Biodiversity Research (iDiv). His research focuses on the evolution of special bacteria, which live in flies, bees and other insects.
---
---