---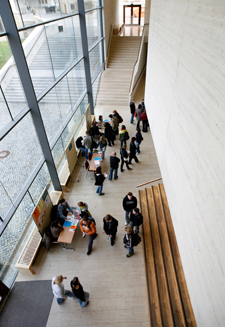 Creating knowledge since 1502
Coronavirus pandemic: Current information from the MLU
The university offers information for MLU members on the following webpages: www.uni-halle.de/coronavirus. There you will find, among other things:
Spintronics: New manufacturing process makes crystalline microstructures universally usable
New storage and information technology requires new higher performance materials. One of these materials is yttrium iron garnet, which has special magnetic properties. Thanks to a new process, it can now be transferred to any material. Developed by physicists at Martin Luther University Halle-Wittenberg (MLU), the method could advance the production of smaller, faster and more energy-efficient components for data storage and information processing. The physicists have published their results in the journal "Applied Physics Letters".
Plant responses to climate are lagged
Plant responses to climate drivers such as temperature and precipitation may become visible only years after the actual climate event. This is a key result of new research led by the German Centre of Integrative Biodiversity Research (iDiv), the Martin Luther University Halle-Wittenberg (MLU) and the Helmholtz Centre for Environmental Research (UFZ) published in Global Change Biology. The results indicate that climate drivers may have different effects on the survivorship, growth and reproduction of plant species than suggested by earlier studies.
Overlooked helpers: membrane building blocks play a decisive role in controlling cell growth
Lipids are the building blocks of a cell's envelope - the cell membrane. In addition to their structural function, some lipids also play a regulatory role and decisively influence cell growth. This has been investigated in a new study by scientists at Martin Luther University Halle-Wittenberg (MLU). The impact of the lipids depends on how they are distributed over the plasma membrane. The study was published in "The Plant Cell".
Metabolism: Researchers first to shed light on structure of huge enzyme complex
A new method has enabled the natural structure of particularly large and complex enzymes to be revealed. Scientists at Martin Luther University Halle-Wittenberg (MLU) and TU Berlin have published their findings in the journal "Cell Reports". They investigated a multi-enzyme complex that plays an essential role in metabolism and have discovered that it functions differently than previously thought. This will help scientists better understand certain diseases.
Researchers produce special nanoparticles and reveal their inner structure for the first time
Tiny nanoparticles can be furnished with dyes and could be used for new imaging techniques, as chemists and physicists at Martin Luther University Halle-Wittenberg (MLU) show in a recent study. The researchers have also been the first to fully determine the particles' internal structure. Their results were published in the renowned journal "Angewandte Chemie".
Our commitment to refugees
Martin Luther University Halle-Wittenberg supports refugees eager to study by providing the following counselling services and measures.
---
---