---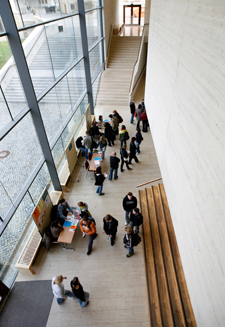 Creating knowledge since 1502
Coronavirus pandemic: Current information from the MLU
The university offers information for MLU members on the following webpages: www.uni-halle.de/coronavirus. There you will find, among other things:
Where does the special scent of thyme and oregano come from?
Thyme and oregano are not only popular herbs for cooking, but also valuable medicinal plants. Their essential oils contain thymol and carvacrol which impart the typical flavors and are medically important. A team from Martin Luther University Halle-Wittenberg (MLU) and Purdue University in the USA has now fully identified how the plants produce these two substances. The results could simplify the breeding process and improve the pharmaceutical value of thyme and oregano.
Traditional medicinal plant relieves malaria symptoms
The active plant ingredient anemonin could provide a new approach in the treatment of malaria. It was identified by researchers from Ethiopia and Germany in a buttercup that is traditionally used in some African countries as a medicinal plant to treat malaria. Extracts from the plant significantly alleviated the symptoms of infected mice, as the team from Arba Minch University (AMU), Addis Ababa University (AAU) and Martin Luther University Halle-Wittenberg (MLU) reported in the journal "Molecules".
Insects: how farmers can be better engaged in species conservation
While farmers have the capacity to drive species conservation worldwide, their true potential is yet to be fully realised. An international team of researchers led by the Martin Luther University Halle-Wittenberg (MLU) shows how this can change in a new study published in the scientific journal "Global Ecology and Conservation". The researchers interviewed 560 farmers around the world to find out what they know about their local pollinator diversity and their engagement in the issue. The results offer important insights for politics and science.
Cannabis oils: do they really contain what their packaging claims?
Oils, shampoos and even chewing gum: the substance cannabidiol (CBD), an extract of the hemp plant, is currently very popular and can be found in many everyday products. However, it is not clear whether these products really contain what they say they do. Researchers at Martin Luther University Halle-Wittenberg (MLU) have developed a simple, inexpensive and precise way of analysing CBD oils. It allows them to detect not only CBD but also a variant of the mind-altering substance tetrahydrocannabinol (THC).
Widespread plants displace rarer species across habitats
Widespread species are on the rise in several European ecosystems and are replacing rarer plant species. As a result, distinct habitats are becoming increasingly similar in species composition. An international team led by the German Centre for Integrative Biodiversity Research (iDiv) and the Martin Luther University Halle-Wittenberg (MLU) with the participation of the Austrian Academy of Sciences (÷AW) has found supporting evidence for this development in mountain summits as well as in forests and lowland grasslands.
Circular economy: researchers show how synthetic rubber raw material can be degraded
Enzymes are capable of degrading synthetic polyisoprene. The specific conditions for that have now been created and exploited by researchers at Martin Luther-University Halle-Wittenberg (MLU) and the Leibniz Institute of Plant Biochemistry (IPB). Polyisoprene is the principal component of natural rubber and of many types of rubber also used in car tires, for example. Up until now, it has only been possible to degrade polyisoprene, with a composition similar to naturally occurring rubber. The present research could provide important insights toward a circular economy. The study appeared in the journal Green Chemistry.
Turbo boost for materials research: researchers train AI to predict new compounds
A new algorithm has been designed to help discover previously unknown material compounds. It was developed by a team from Martin Luther University Halle-Wittenberg (MLU), Friedrich Schiller University Jena and Lund University in Sweden. The researchers designed a form of artificial intelligence (AI) based on machine learning that can perform complex calculations within a very short space of time. This has enabled the team to identify several thousand potential new compounds using a computer. The study was published in the journal "Science Advances".
---
---