---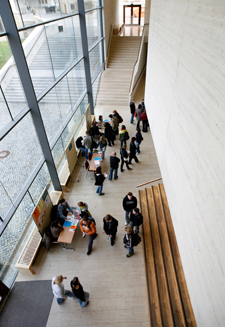 Creating knowledge since 1502
New Research Training Group: Plant cells as small-scale assembly lines
Growth for plant research in Halle: A new Research Training Group (RTG) opened at Martin Luther University. Doctoral students are investigating how complex biochemical processes are controlled in subdivided rooms (so-called "compartments") of plant cells. The Deutsche Forschungsgemeinschaft (DFG, German Research Foundation) is investing around four million euros in the RTG 2498 "Communication and Dynamics of Plant Cell Compartments".
New study on the immune system of plants
What happens at the molecular level when plants defend against invading pathogens? Previously it was assumed that the processes were roughly the same in all plants. However, this is not true, as a team of biologists from Martin Luther University has demonstrated in a new study published in the scientific journal "The Plant Cell". The team also describes how they discovered this complex interaction with the aid of CRISPR/Cas9 genome editing techniques.
Study: Global farming trends threaten food security
Citrus fruits, coffee and avocados: The food on our tables has become more diverse in recent decades. However, global agriculture does not reflect this trend. Monocultures are increasing worldwide, taking up more land than ever. At the same time, many of the crops being grown rely on pollination by insects and other animals. This puts food security at increased risk, as a team of researchers with help from Martin Luther University writes in the journal "Global Change Biology".
This barley can withstand the challenges of climate change
Research for the benefit of food security: A new line of barley achieves good crop yields even under poor environmental conditions. It has been bred by a research team from Martin Luther University, which crossed a common variety with various types of wild barley. The researchers then planted the new lines of barley in five very different locations around the world, observed the growth of the plants and analysed their genetic make-up. As the team reports, some of the plants were not only more resistant to heat and drought, but in many cases achieve higher yields than local varieties.
Study: How financial crises lower life satisfaction and how to prevent this
Financial crises not only result in severe disruptions to the economic system, they also affect people`s life satisfaction. A new study by Martin Luther University and the Halle Institute for Economic Research shows that weaker members of society are more affected by increased uncertainty during crisis times, even if they may not be speculating on the stock market themselves. This could potentially also lower their propensity to consume, thereby intensifying the impact of a financial crisis.
A solarium for hens? How to increase the vitamin D content of eggs
Many people suffer from a vitamin D deficiency. This can result in brittle bones and an increased risk of respiratory diseases. Chicken eggs are a natural source of vitamin D and one way to, at least partially, compensate for this deficiency. A team of nutritionists and agricultural scientists at Martin Luther University has found a new way to further increase the vitamin D content of eggs: by exposing chickens to UV light.
Our commitment to refugees
Martin Luther University Halle-Wittenberg supports refugees eager to study by providing the following counselling services and measures.
---
---