---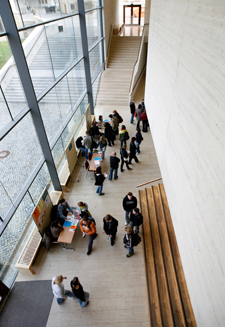 Creating knowledge since 1502
How the University saves energy
The German government's Ordinance on Securing the Energy Supply through Short-term Measures (EnSikuMaV) has been in force since 1 September 2022. The savings measures derived from this for the Martin Luther University Halle-Wittenberg are summarised on a special page. [ mehr ... ]
---
MLU physicists solve mystery of two-dimensional quasicrystal formation from metal oxides
The structure of two-dimensional titanium oxide brakes-up at high temperatures by adding barium; instead of regular hexagons, rings of four, seven and ten atoms are created that order aperiodically. A team at Martin Luther University Halle-Wittenberg (MLU) made this discovery in colaboration with researchers from the Max Planck Institute (MPI) for Microstructure Physics, the Universitť Grenoble Alpes and the National Institute of Standards and Technology (Gaithersburg, USA), thereby solving the riddle of two-dimensional quasicrystal formation from metal oxides. Their findings have been published in the renowned journal "Nature Communications".
Climate Change in Finland: Fewer moths, more flies
In the far north of the planet, climate change is clearly noticeable. A new study in Finland now shows that in parallel there have been dramatic changes in pollinating insects. Researchers from the Martin Luther University Halle-Wittenberg (MLU), the Helmholtz Centre for Environmental Research (UFZ), and the German Centre for Integrative Biodiversity Research Halle-Jena-Leipzig (iDiv) have discovered that the network of plants and their pollinators there has changed considerably since the end of the 19th century.
Once a terrorist, always a terrorist? Study examines the UNís terrorist list
At the United Nations, an ombudsperson reviews who is on the list of terrorists from Al Qaeda and the Islamic State. If someone feels that they have been wrongly placed on the list and should be removed, they can request that their case should be reviewed. Since the establishment of the office in 2010, 63 people have been struck off the list on the basis of recommendations made by the ombudsperson. Those on the list are subjected to far-reaching sanctions, for example travel bans and the freezing of bank accounts. Dr Andrej Lang, a legal scholar from Martin Luther University Halle-Wittenberg (MLU), takes stock of this issue in the "American Journal of International Law".
Developmental genetics: How germ cells cut the cord from their parents
For the first cell to develop into an entire organism, genes, RNA molecules and proteins have to work together in a complex way. At first, this process is indirectly controlled by the mother. At a certain point in time, the protein GRIF-1 ensures that the offspring cut themselves off from this influence and start their own course of development. A research team from Martin Luther University Halle-Wittenberg (MLU) details how this process works in the journal "Science Advances".
---
---