---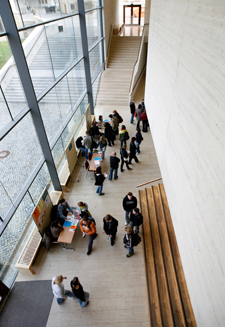 Creating knowledge since 1502
---
The War in Ukraine: The Latest Information from MLU
The University of Halle is deeply appalled by the war in Ukraine and strongly condemns Russia's attack, which is in violation of international law.
The university has consolidated information, offers of assistance, and ways to donate on a website it has set up for members of MLU: www.uni-halle.de/ukraine
Coronavirus pandemic: Current information from the MLU
The university offers information for MLU members on the following webpages: www.uni-halle.de/coronavirus. There you will find, among other things:
---
Researchers find new approach to treating cardiovascular diseases
A specific protein in blood vessel cells plays a major role in the development of vascular and cardiovascular diseases: The presence of too many "thromboxane A2 receptors" hinders the formation of new blood vessels. A research team led by the Martin Luther University Halle-Wittenberg (MLU) was able to describe the underlying process for the first time. The findings, published in "Arteriosclerosis, Thrombosis, and Vascular Biology" could help to develop new ways of treating cardiovascular diseases.
If you stand like Superman or Wonder Woman, would you feel stronger?
Dominant or upright postures can help people feel - and maybe even behave - more confidently. A new analysis by the Martin Luther University Halle-Wittenberg (MLU), the University of Bamberg and The Ohio State University has confirmed what small studies already suggested. The team evaluated data from around 130 experiments with a total of 10,000 participants. The results also disprove the controversial claim that certain poses influence a person's hormone levels.
Spintronics: How an atom-thin insulator helps transport spins
An intermediate layer consisting of a few atoms is helping to improve the transport of spin currents from one material to another. Until now, this process involves significant losses. A team from Martin Luther University Halle-Wittenberg (MLU), the Max Planck Institute (MPI) for Microstructure Physics, and the Freie Universität Berlin reports in the scientific journal "ACS Nano Letters" on how this can be avoided. The researchers thus demonstrate important new insights relevant for many spintronic applications, for example energy-efficient and ultra-fast storage technologies of the future.
How can we improve biodiversity monitoring in Europe?
National biodiversity monitoring programmes in Europe face many challenges: too little coordination, inadequate technical and financial resources as well as unclear targets. This is the conclusion of an initial policy report by the Europe-wide project "EuropaBON". The analysis includes data from more than 350 experts in policy, science and environmental protection. The team is also drafting a proposal for the transnational monitoring of Europe`s biodiversity and ecosystems.
---
---