---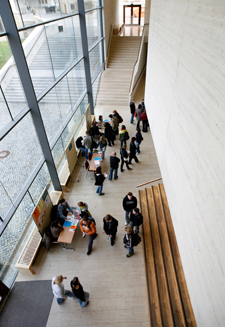 Creating knowledge since 1502
Coronavirus pandemic: Current information from the MLU
The university offers information for MLU members on the following webpages: www.uni-halle.de/coronavirus. There you will find, among other things:
Rapeseed instead of soy burgers: researchers identify a new source of protein for humans
Rapeseed has the potential to replace soy as the best plant-based source of protein for humans. In a current study nutrition scientists at the Martin Luther University found that rapeseed protein consumption has comparable beneficial effects on human metabolism as soy protein. The glucose metabolism and satiety were even better. Another advantage: The proteins can be obtained from the by-products of rapeseed oil production. The study was published in the journal "Nutrients".
'Cool' sampling sites more likely to show false trends in biodiversity change
Data collected by citizen science initiatives, museums and national parks is an important basis for research on biodiversity change. However, scientists from the German Centre for Integrative Biodiversity Research (iDiv), Leipzig University (UL) and Martin Luther University Halle-Wittenberg (MLU) found that sampling sites are oftentimes not representative, which may lead to false conclusions about how biodiversity changes. Their research, published in "Conservation Biology", calls for more objective site selection and better training for citizen scientists to prevent a site-selection bias.
Researchers find new way to protect plants from fungal infection
Widespread fungal disease in plants can be controlled with a commercially available chemical that has been primarily used in medicine until now. This discovery was made by scientists from Martin Luther University Halle-Wittenberg (MLU) and the University of the State of Paraná in Brazil. In a comprehensive experiment the team has uncovered a new metabolic pathway that can be disrupted with this chemical, thus preventing many known plant fungi from invading the host plant. The team reported on their study in the scientific journal "Phytopathology".
Europe's primary forests: What to protect? What to restore?
An expansion of the protected areas by only about one percent would sufficiently protect most remaining primary forests in Europe. This is one of the main results of a study conducted by an international team led by researchers from the German Centre for Integrative Biodiversity Research (iDiv), Martin Luther University Halle-Wittenberg (MLU) and Humboldt-Universität zu Berlin (HU). The study, published in "Diversity and Distribution", is the first assessment of the conservation status of Europe's primary forests. It identifies protection gaps and areas with restoration needs to reach conservation targets. In addition, it provides valuable information how to implement the new EU Biodiversity Strategy.
Nature as a model: researchers develop novel anti-inflammatory substance
Anti-inflammatory substances based on components of human cells could one day improve treatment in patients. Researchers at the Institute of Pharmacy at Martin Luther University Halle-Wittenberg (MLU) have developed a method for producing those substances with controlled quality. Since the body does not recognise them as foreign substances, they offer advantages over anti-inflammatory drugs such as ibuprofen or diclofenac. The results were published in the "European Journal of Pharmaceutical Sciences".
Playfulness can be trained – here's why you should do it
Simple exercises can help to make people more playful and consequently feel more satisfied with their lives. This has been revealed in a new study by psychologists from Martin Luther University Halle-Wittenberg (MLU) in the journal "Applied Psychology: Health and Well-Being". The researchers had participants in an experiment perform a week of exercises to boost their playfulness. They found that the trait can be stimulated and trained – and that this improves a person's mood.
Our commitment to refugees
Martin Luther University Halle-Wittenberg supports refugees eager to study by providing the following counselling services and measures.
---
---