---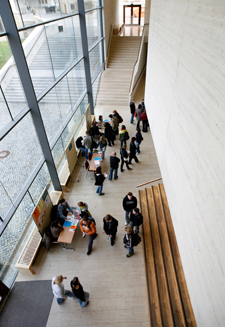 Creating knowledge since 1502
Coronavirus pandemic: Current information from the MLU
The university offers information for MLU members on the following webpages: www.uni-halle.de/coronavirus. There you will find, among other things:
Study on body posture: can powerful poses improve self-confidence in children?
A dominant body posture may help children to feel more confident in school. These are the findings of a new study by psychologists from Martin Luther University Halle-Wittenberg and the Otto Friedrich University of Bamberg. The study was recently published in the journal "School Psychology International" and provides initial evidence that simple poses can help students feel better at school.
Electrolysis: Chemists at the University of Halle have discovered how to produce better electrodes
Another step forward for renewable energies: The production of green hydrogen could be even more efficient in the future. By applying an unusual process step, chemists at Martin Luther University Halle-Wittenberg (MLU) have found a way to treat inexpensive electrode materials and considerably improve their properties during electrolysis. The group published their research results in the journal "ACS Catalysis".
Insects: Largest study to date confirms declines on land, but finds recoveries in freshwater
A worldwide compilation of long-term insect abundance studies shows that the number of land-dwelling insects is in decline. On average, there is a global decrease of approximately 24% over 30 years. At the same time, the number of insects living in freshwater, such as midges and mayflies, has increased on average by 38%. These are the results from the largest study of insect change to date, including 1676 sites across the world, now published in the journal Science. The study was led by researchers from the German Centre for Integrative Biodiversity Research (iDiv), Leipzig University (UL) and Martin Luther University Halle-Wittenberg (MLU).
Delivery drones instead of postal vans? Study reveals drones still consume too much energy
When delivering parcels, drones often have a poorer energy balance than traditional delivery vans, as shown by a new study conducted at Martin Luther University Halle-Wittenberg. In densely populated areas, drones consume comparatively high amounts of energy and their range is strongly influenced by wind conditions. In rural areas, however, they may be able to compete with diesel-powered delivery vans. The study has been published in the journal "Transportation Research Part D: Transport and Environment".
Corona and air pollution: how does nitrogen dioxide impact fatalities?
Elevated levels of nitrogen dioxide in the air may be associated with a high number of deaths from Covid-19. A new study by Martin Luther University Halle-Wittenberg (MLU) provides concrete data that back this assumption for the first time. The paper combines satellite data on air pollution and air currents with confirmed deaths related to Covid-19 and reveals that regions with permanently high levels of pollution have significantly more deaths than other regions. The results were published in the journal "Science of the Total Environment".
Our commitment to refugees
Martin Luther University Halle-Wittenberg supports refugees eager to study by providing the following counselling services and measures.
---
---