Focus on nanostructures: SFB receives an additional ten million euros

The next stage in excellence research into oxide interfaces has been secured. The collaborative research centre (SFB) 762 "Functionality of Oxide Interfaces", based at Martin Luther University, will receive millions in funding from the German Research Foundation for a further four years. The MLU is working on this together with its partners the University of Leipzig and Max Planck Institute for Microstructure Physics in Halle.

"The scientific expertise on this subject is concentrated in the Halle/Leipzig region – and our joint efforts are successful. Already in the first funding period the referee team has attested us international visibility", says Prof. Dr. Ingrid Mertig from the Martin Luther University, spokesperson of the SFB. "We are contended about the further funding and will utilise the millions to advance our excellent research on oxide interfaces."
The scientists fabricate nanostructures consisting of few atomic layers of an oxide, combined with another few atomic layers of a metal or another oxide. The interface then determines the functional properties of this nanostructure – which can be entirely novel. "As a result, this might lead to a revolution in data storage technology", says Ingrid Mertig.
The SFB was established in 2008 and is an integral part of one of the MLU's main scientific focuses, the research network "Nanostructured Materials", which is being funded by the federal state of Saxony-Anhalt since 2005. The funding of the SFB for the years 2012 to 2015 amounts to more than ten million euro. All 18 projects of the SFB that have applied for the second funding period, among which are three new projects, were considered eligible by the German Research Foundation (DFG).
During the first funding period, already more than 220 publications in international journals originated from the SFB. 15 dissertations have been finished during the first funding period; another 29 doctoral candidates are currently working on their thesis.
Internet: http://www.physik.uni-halle.de/sfb762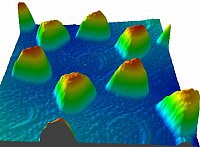 This image, created with an atomic force microscope, shows nano-islands of barium titanate on a strontium titanate substrate. Image: SFB 762 (Marin Alexe, Wenhui Ma, Dietrich Hesse)
---
---