---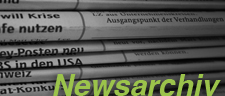 2011
| | | | | | |
| --- | --- | --- | --- | --- | --- |
| Jan | Feb | Mar | Apr | May | Jun |
| Jul | Aug | Sep | Oct | Nov | Dec |
---
2010
| | | | | | |
| --- | --- | --- | --- | --- | --- |
| Jan | Feb | Mar | Apr | May | Jun |
| Jul | Aug | Sep | Oct | Nov | Dec |
---
Newsarchiv: Creating knowledge since 1502
Jahr 2015
Over one million euros in EU funding for nano-researcher Georg Woltersdorf
Dr. Georg Woltersdorf has accepted an appointment at Martin Luther University. The renowned young physicist took over the Chair for Experimental Physics, Optics and Time-resolved Spectroscopy on 1 October thereby transferring to MLU his project "Electric Control of Magnetization Dynamics", which studies the properties of nanomagnets. The project is being funded by the European Research Council's ERC Starting Grant of €1.5 million euros over five years. The nanostructures Woltersdorf is studying could be used in new data storage methods.
Ingolf Kühn one of the most frequently cited researchers in his field
Prof. Dr. Ingolf Kühn was put on the renowned list of "highly cited researchers" in June. Only scientists whose publications are very frequently cited make it onto this international list. Kühn`s research primarily looks at the biological invasion of foreign species and the effects of climate and land use change on ecosystem functions. His particularly successful articles are general overview articles on biostatistical methods or newly published datasets. Ingolf Kühn was jointly appointed professor of macroecology by MLU and the Helmholtz Centre for Environmental Research in March 2014.
Publication in "Nature": a new class of quasicrystals has been discovered
Scientists at Martin Luther University have caused a sensation: physicist Prof. Dr. Wolf Widdra and his research team were able to prove that it is possible to form a quasicrystal from oxides. Previously such structures were only found in a few metal alloys and very soft colloidal systems. The materials, developed on this basis, have unusual and highly interesting properties from a technological point of view. The discovery considerably widens these new materials' field of application. The scientists' findings were published in the October issue of the renowned journal "Nature".
Embryos: The animal-like secret of plants - Halle researchers are published in "Nature"
One thing is true for both embryos of vertebrates and humans: there is hardly any difference between them during a specific development phase. Beforehand and afterwards there are major differences between the species. This is referred to as the hourglass principle in embryonic development. Scientists at the Leibniz Institute for Plant Biochemistry (IPB) and Martin Luther University Halle-Wittenberg (MLU) have also discovered that this principle applies to plants as well. It is a mutual molecular phenomenon and this discovery will contribute to the understanding of the origin of biodiversity. The research findings of these scientists from Halle have been published in the renowned magazine "Nature".
Stolpersteine: Medienstudentinnen reisen für Filmprojekt nach Jerusalem
Für ein Filmprojekt reisen zwei Studentinnen der Universität Halle nach Israel. Die beiden Filmemacherinnen wollen in Jerusalem Irene Eber treffen, die als Kind ihre Heimatstadt Halle verlassen musste, um vor den Nationalsozialisten zu fliehen. Das Ministerium für Wissenschaft und Wirtschaft Sachsen-Anhalt unterstützt das Projekt mit 1.000 Euro.
Jahr 2014
Chemists discover spontaneous chirality in liquids
Until now, researchers have believed that the spontaneous separation of chiral molecules is only possible in a solid crystalline state. Chemists at MLU have now proven for the first time that this special type of separation can also be observed in liquids. Chiral molecules are molecules that, due to their mirror image form, cannot be brought into alignment. Louis Pasteur was the first to achieve separation in 1848 through crystallisation and manual sorting of the crystals under the microscope. The research findings of Prof. Dr. Carsten Tschierske`s team have been published in the online edition of the renowned journal "Nature Chemistry". They provide a possible new approach to explaining the origin of the uniform chirality of carbohydrates and amino acids that are each only present in nature in a mirror-image form. This uniformity is crucial for biological systems to function.
A successful crossover
German studies professor Dr. Elisabeth Décultot (46) from France is one of the world`s most renowned Enlightenment researchers. Currently working in Paris, she will transfer to Halle in winter semester. This is being made possible by the Alexander von Humboldt professorship, Germany`s most highly endowed international research prize, and Décultot is the first literary scholar to receive it.
News
Am 6. Februar 2014 wurde die Studentin Mariya Nakovska getötet. Ihre Familie möchte sie in ihrer Heimat Bulgarien beisetzen. Um dies zu ermöglichen, haben Freunde ein Spendenkonto eingerichtet. Unterstützt werden sie dabei von dem Verein "Hilfe für ausländische Studierende" unter der Leitung von Prof. Dr. Dr. Bernd Fischer und dem evangelischen Studentenpfarrer Johann-Hinrich Witzel. Das Rektorat stellte bereits am Dienstag 1.500 Euro zur Verfügung, die dem Konto gut geschrieben werden. Zahlreiche Universitätsangehörige und Professoren haben bereits gespendet.
Weitere Spenden nimmt der Verein "Hilfe für ausländische Studierende" auf folgendem Konto entgegen (Spendenquittungen werden bei Bedarf ausgestellt): Konto-Nummer:  51 00 20 13 23; Bankleitzahl: 80 02 00 86 (Hypovereinsbank); IBAN: DE05800200865100201323, Kennwort "Überführung"
Jahr 2013
---
---