---
---
Contact
Familienbüro
phone: 0345/55 21357
fax: 0345/55 27636
familiengerechte-hochschule...
Barfüßer Straße 17
06108 Halle (Saale)
Sprechzeiten
Montag von 11 bis 13 Uhr
Mittwoch von 13 bis 15 Uhr
sowie nach Vereinbarung
---
---
Login for editors
---
Child-friendly Infrastructure at the MLU Halle
Possibilities for Playing, Nursing and Changing Diapers at the MLU Halle
On this page you receive an overview of the options that MLU Halle offers to support studying or working with a child. Part of this are places to nurse and change your child's diapers, playing and reading areas, parent-child-rooms and high chairs in the canteens.
A list of all child-friendly offers can be found in the following document. The list is extended regularly with new options. Campus Maps also lists all of the options that MLU Halle provides if you tick the box "Familienfreundliche Hochschule".
Ruhe_Still_Wickelmöglichkeiten_Uni-Halle_20230316.pdf (487.5 KB) vom 16.03.2023
Room for Playing, Nursing, Changing Diapers and Recreation at Steintor Campus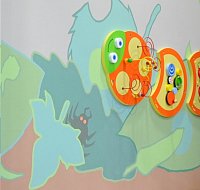 The recreation room for playing, nursing and changing diapers offers a quiet and safe haven for students and employees of MLU with children, chronic illnesses or disabilities. It can be used to watch your own children or to rest and relax.
Children's toys, a changing table and armchairs to rest in are available. The room is joined with the SSR (the students' self-governed room) at Steintor Campus.
Information about opening hours, access, usage regulations and inventory can be found here.
The Student Council's "Kinderinsel"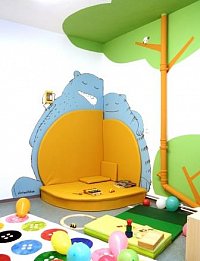 The "Kinderinsel" (children's island) offers parents the possibility to nurse and change their children and to let them play. Additionally, a computer workspace is available. You can take care of the children yourself or organize child care via a third party. The "Kinderinsel" is located inside the building of the Student Council of MLU at Universitätsplatz 7. The room can be booked via E-Mail and then used after prior arrangements with the office of the Student Council.
The "Kinderinsel" has a mailing list for students with children, which is taken care of by the "Arbeitskreis Studieren mit Kind" (work group studying with children).
Parent-Child-Rooms at MLU Halle
Parent-child-rooms can be found at the different locations of MLU Halle, for example at Campus Heide-Süd, Weinberg-Campus and at the Franckesche Stiftungen. Equipped with a workspace, toys, changing table and children's traveling bed, the rooms offer employees with children the possibility to work and care for their children simultaneously. Some locations also offer mobile parent-child-rooms.
Information about location, access and inventory can be found in the overview of possibilities for playing, nursing and changing diapers at MLU Halle or on Campus Maps .

Spiel- Still- und Wickelmöglichkeiten an der Uni-Halle Stand_02_2020.pdf (153.4 KB) vom 23.04.2020
Exceptional-Hour-Care "WeinbergKids" at MLU's Weinberg Campus

For a better compatibility of studies, qualification, job and family, the WeinbergKids offer additional, hourly child care for afternoons and evenings. The loving child care is open always from Mondays to Fridays from 13:30 to 20:30. After prior arrangements, further times of care are possible as well, e.g. to temporarily bridge shortages in child care. Per hour of care, students pay 2,- Euros and employees of the MLU pay 5,- Euros.
---
---