---
---
Contact
Familienbüro
phone: 0345/55 21357
fax: 0345/55 27099
familiengerechte-hochschule...
Barfüßer Straße 17
06108 Halle (Saale)
Sprechzeiten
Montag von 11 bis 13 Uhr
Mittwoch von 13 bis 15 Uhr
sowie nach Vereinbarung
---
---
Login for editors
---
The Familienbüro Holiday Care
Summer and Autumn Holiday Care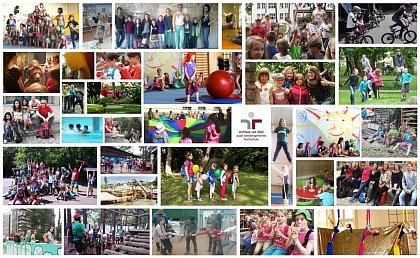 Twice a year the Familienbüro organizes a holiday care for children of students and employees of MLU. Children between the ages of 5 and 14 are invited to participate in the two-week summer holiday care and the one-week autumn holiday care.
The children are cared for by students of educational sciences and teacher programs. Usually, this takes place between 8:00 am and 5:00 pm.
The parents' fee is 7, - € for students and 14, - € for employees per child and day.
An overview of the program and the application form as well as the dates for the respective holiday care are provided in advance on the website of the Familienbüro.
Anmeldung Herbstferienbetreuung 2020
Die diesjährige Herbstferienbetreuung des Familienbüros findet in der Zeit vom 19. Oktober bis zum 23. Oktober statt.
In diesem Jahr werden maximal 20 Kinder in zwei festen Gruppen, mit je 10 Kindern, betreut. Wenn Ihr/e Kind/er mit anderen befreundeten Kindern in einer Gruppe betreut werden sollen, können Sie dies im Anmeldeformular angeben.
Bitte berücksichtigen Sie vor der Anmeldung das Hygienekonzept zur diesjährigen Herbstferienbetreuung und lesen die "Informationen zur Durchführung der diesjährigen Herbstferienbetreuung".

Informationen zur Durchführung der diesjährigen Herbstferienbetreuung.pdf (94 KB) vom 22.09.2020
Programm Herbstferienbetreuung 2020
Herbstferienprogramm 2020.pdf (250.6 KB) vom 21.09.2020
Anmeldeformular Herbstferienbetreuung 2020
Herbstferien'20-Anmeldung zur Ferienbetreuung.pdf (287.3 KB) vom 21.09.2020
Dates for the Familienbüro Holiday Care
19. Oktober 2020 - 23. Oktober 2020 – Herbstferienbetreuung
26. Juli 2021 - 06. August 2021 – Sommerferienbetreuung
25. Oktober 2021 - 30. Oktober 2021 – Herbstferienbetreuung
Questions and Answers about the Holiday Care
Here you can get to the Familienbüro FAQ about holiday care.
---
---