---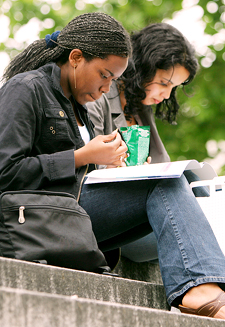 ---
---
---
Contact
Immatrikulationsamt - International Students Section
international.students@uni-...
Universitätsplatz 11 (Löwengebäude)
D - 06108 Halle (Saale), Germany
Office hours:
Montags 13:00 - 16:00 Uhr/
Mondays 1 pm - 4 pm
Mittwochs 10:00 - 12:00/
Wednesdays 10 a.m. - 12 p.m.
Visitors please register at the Infothek (room 1) first.
!No consulation hours until 15.12.2023!
---
---
Login for editors
---
Application with graduations from abroad
NEWS
Start of the application period for the summer semester 2024!
As of now, applications for MLU Halle for the summer semester 2024 can be submitted via uni-assist . Please find all information on how to apply incl. deadlines below.
Special Regulation: APS India
The APS special regulation for applicants with degrees from India is also effective for the application period for summer semester 2024. For more information see -> here.
Get information
First of all, please check: Is your academic backround sufficient for studying with us? Do you maybe need additional qualification? Uni-assist's Check university admission will tell you.
Please inform about the details of your desired study programme with the help of the study offer before applying. Do you fulfil the subject specific admission requirements (e.g. minimum grades, aptitude test or internship)?
Application deadlines
Studienkolleg/ DSH
Undergraduate programmes
Master's
Winter semester
15 July
15 July
15 June

---

For Master's Pharmaceutical and Industrial Biotechnology: 31 March

Summer semester
15 January

---

An application by 15 December at the latest is strongly recommend for a timely invitation to the entrance test!

15 January
15 December
Please submit your application as early as possible. The processing time usually takes several weeks. By applying early, you ensure that there is enough time for queries and your application for a study visa.
Please note: Most study programmes start in winter semester only. Applications for the wrong semester must unfortunately be rejected. Please inform yourself about the application possibilities in advance in our study offer.
Prepare documents
The application is done paperless online with digital scans of your original documents. The following documents are required:
High school graduation (graduation certificate including course and grade overview).
If you studied at university or college: graduation certificate respectively course and grade overview including official grading scheme. Important: Prospective graduation documents will be accepted. However, you should submit the final graduation certificate no later than 4 months after semester start (31 January or winter term applications, 31 July for summer term applications).
Language certificate.
If applicable, further proof of subject-related admission requirements (e.g. proof of internships, CV, motivation letter, ...). Please enquire about specific admission requirements in our study catalogue under point Admission Requirements for the desired programme.
Certified translations (under oath/ admissible at court) in German or Englisch, if your documents are not issued in one of these languages already.
only for applicants with certificates from India, China or Vietnam: APS certificate
Halle University includes TestAS for improving the admission grade for undergraduate programmes. Scoring over 80 percent in both tests, the core and module test, a bonus of maximum 0.2 will be given. Please provide your TestAS data to uni-assist.
Proof of language proficiency for German-speaking programmes:
For the application to German-speaking or bilingual study programmes, please submit exclusively one of the following German language certificates:
Deutsche Sprachprüfung für den Hochschulzugang Stufe 2 (DSH-2)
TestDaF with min. 4 points in each section
telc Deutsch C1 Hochschule with min. result "befriedigend" (grade C) *
Goeth certificate C2: GDS
Deutsches Sprachdiplom der Kultusministerkonferenz Stufe 2 (DSD-II) with min. 3x level C1 *
Feststellungsprüfung (FSP) certificate with examination part German
Österreichisches Sprachdiplom C2 (ÖSD)
Please note:
The application happens exclusively online. Please upload digital scans of your original documents (and notarised translations, if applicable) in your uni-assist account. You do not need to hand in any hard documents neither with uni-assist nor with us.
Please only upload the required documents demanded for the application. Additional documents that are not mentioned here or in the specific admission requirements are generally not considered in the procedure and therefore do not need to be submitted.
Apply
Please submit your application via the portal www.uni-assist.de only.
Search for your desired degree programme or course in the course catalogue.
Register, answer the mandatory questions (online application form) and upload your documents.
Pay the handling fees and submit your application.
You may check the status of your application in "My inbox" at my assist.
IMPORTANT NOTE: For a valid application, all required documents and the handling fees must be received by uni-assist within the deadlines. Belated documents/payments will disqualify the application. In case of an incomplete/invalid application, uni-assist will not refund any handling fees.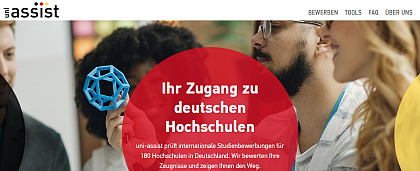 How it continues
Uni-assist evaluates your documents according to our criteria. As soon as your application had been forwarded to us, we will check it once more in detail. This might also take some time, especially with master programmes.
During that time, you may already start your visa application at the German embassy or consulate with the positive evaluation result from uni-assist.
Once we have made a decision on admission or rejection, we will inform you via e-mail immediately.
For applications to NC degree programmes, admission procedures take place from mid-August onwards for winter term or mid-February for summer term. Please be patient until then.
Please note: You will not receive any confirmation of receipt or status update on your application. Please refrain from requests as they can slow down the procedure. Thank you for your understanding.
Specific regulations
DoSV study programmes
Some undergraduate programmes take part in the so-called DoSV procedure (dialogorientiertes Serviceverfahren): Bachelor 180 CP Biology, Biochemistry, Business Studies, Nutritional Sciences, Educational Sciences, Economics, Business Information Systems and Psychology as well as state examination programme Law. EU/EEA applicants for 1st semester for one of these programmes should register with www. hochschulstart. de in order to receive so-called BID/BAN-numbers necessary for the application with uni-assist.
Medicine, Dentistry and Pharmacy
Regarding pplications for the first semester, citizens of the EU and the European Economic Area (EEA) are on equal terms with Germans and shall submit their application not in accordance with the standard procuredure via uni-assist. They must exclusively apply via www.hochschulstart.de . Other deadlines apply; please check the study offer.
The maximum age for applications for the first semester is 55.
Application for higher semesters
For your application to higher subject semesters a placement decision is required. As the identified subject semester is required while applying, the placement decision should be issued before the application. Please read our special webpage (in German only) and mind specific hints for the different programmes and required forms.
Exemptions for Medicine and Dentistry: Transfer students without permanent residence in Germany must request the Anrechnungsbescheid (placement decision) from Bezirksregierung Düsseldorf . International applicants must only complete the first page of the form "Ergänzende Angaben…".
Applicants for dentistry must also submit an Einstufungsbescheid from the relevant study and examination board of the Faculty of Medicine.
Exception for Pharmacy: Transfer students from abroad must request the Anrechnungsbescheid (placement decision) from the Hessian Landesprüfungsamt.
---
---