---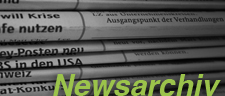 Newsarchiv: Creating knowledge since 1502
Jahr 2019
Study: Global farming trends threaten food security
Citrus fruits, coffee and avocados: The food on our tables has become more diverse in recent decades. However, global agriculture does not reflect this trend. Monocultures are increasing worldwide, taking up more land than ever. At the same time, many of the crops being grown rely on pollination by insects and other animals. This puts food security at increased risk, as a team of researchers with help from Martin Luther University writes in the journal "Global Change Biology".
Physicists Develop "Time Machine" for Materials Science
Physics experiments are often time-consuming and expensive. Sometimes scientists do not realize until the very end that they have been using the wrong calibration for measurements the whole time. What if there were a way to go back in time to the start of the experiment and re-examine the data? Researchers at Martin Luther University, Freie Universitšt Berlin, and the Technical University of Munich (TUM) hope to create a machine that would make that possible. They plan to develop their "time machine" for the large-scale research equipment at the Helmholtz-Zentrum Berlin fŁr Materialien und Energie (HZB), which would mean a helpful improvement for the facility.
Hawai'i: Introduced species dilute the effects of evolution on diversity
Understanding how biodiversity is shaped by multiple forces is crucial to protect rare species and unique ecosystems. Now an international research team has found that biodiversity is higher on older islands than on younger ones. Furthermore, they found that introduced species are diluting the effects of island age on patterns of local biodiversity. The findings were published in "PNAS".
This barley can withstand the challenges of climate change
Research for the benefit of food security: A new line of barley achieves good crop yields even under poor environmental conditions. It has been bred by a research team from Martin Luther University, which crossed a common variety with various types of wild barley. The researchers then planted the new lines of barley in five very different locations around the world, observed the growth of the plants and analysed their genetic make-up. As the team reports, some of the plants were not only more resistant to heat and drought, but in many cases achieve higher yields than local varieties.
Study: How financial crises lower life satisfaction and how to prevent this
Financial crises not only result in severe disruptions to the economic system, they also affect people`s life satisfaction. A new study by Martin Luther University and the Halle Institute for Economic Research shows that weaker members of society are more affected by increased uncertainty during crisis times, even if they may not be speculating on the stock market themselves. This could potentially also lower their propensity to consume, thereby intensifying the impact of a financial crisis.
A solarium for hens? How to increase the vitamin D content of eggs
Many people suffer from a vitamin D deficiency. This can result in brittle bones and an increased risk of respiratory diseases. Chicken eggs are a natural source of vitamin D and one way to, at least partially, compensate for this deficiency. A team of nutritionists and agricultural scientists at Martin Luther University has found a new way to further increase the vitamin D content of eggs: by exposing chickens to UV light.
A sauna session is just as exhausting as moderate exercise
Your blood pressure does not drop during a sauna visit – it rises, as well as your heart rate. This increase is even comparable to the effect of a short, moderate workout. This is the result of a new study conducted by researchers at Martin Luther University Halle-Wittenberg and the Medical Center Berlin. For their study, the researchers placed their participants both in a sauna and on a bicycle ergometer.
First-class protein research: research training group established at MLU
A new research training group will start conducting research on proteins at the Martin Luther University in June 2019. Its research will focus on a specific class of proteins that is responsible for conducting many important functions in the human body and is also involved in the development of major diseases. The research training group (RTG) 2467 "Intrinsically Disordered Proteins - Molecular Principles, Cellular Functions, and Diseases" will receive about four million euros in funding from the Deutsche Forschungsgemeinschaft (DFG, German Research Foundation).
Polymers: Third round of funding for Collaborative Research Centre
The Collaborative Research Centre SFB/Transregio 102 (CRC) "Polymers under Multiple Constraints" can continue its work at Martin Luther University until 2023. The Deutsche Forschungsgemeinschaft (DFG, German Research Foundation) is providing nine million euros as part of a third round of funding for the CRC. In the new round, the polymer scientists will broaden their scope to investigate so-called hybrid polymers, a combination of synthetic polymers and proteins.
Cement: Using industrial residues to produce carbon neutral alternatives
Producing cement takes a big toll on our climate: Around eight per cent of annual global carbon dioxide emissions can be attributed to this process. However, the demand for cement continues to rise. A team of geoscientists from Martin Luther University has found a way to produce more environmentally friendly and sustainable alternatives. In the journal "Construction and Building Materials" they describe how industrial residues can be used to produce high-quality, climate-friendly materials.
"Nature Communications": physicists discover new type of spin waves
Advances in IT technologies are hampered by the ever increasing demand for energy and by fundamental limits on miniaturization. Energy dissipation mostly going into heating up the environment is also a challenge. A new type of spin waves recently discovered by physicists at Martin Luther University and Lanzhou University in China may serve to overcome these obstacles.
Scientists call for a paradigm shift in restoration projects in "Science"
Regardless of whether we are dealing with a floodplain landscape or an entire national park, the success of a restoration project depends on more than just the reintroduction of individual plant or animal species into an area. An international team of researchers led by Martin Luther University and the German Centre for Integrative Biodiversity Research reveals it is more a matter of helping the damaged ecosystem to regenerate and sustain itself. In the current issue of the journal Science the researchers describe how rewilding measures can be better planned and implemented - and the benefits this can have on humans.
---
---