---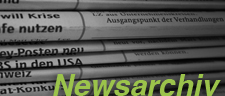 Newsarchiv: Creating knowledge since 1502
Jahr 2019
Climate change and ecosystems: there are too few realistic experiments
When it comes to the impact of climate change on ecosystems, we still have large knowledge gaps. Most experiments are unrealistic because they do not correspond to projected climate scenarios for a specific region. Thus, we lack reliable data on what ecosystems might look like in the future, as a team of biodiversity researchers from Central Germany show in the journal "Global Change Biology".
News
Die traditionelle Disputation der Universität Halle am Reformationstag, Donnerstag, 31. Oktober 2019, beschäftigt sich in diesem Jahr unter dem Titel "Wissenstransfer: Fluch oder Segen für die Wissenschaft?" mit dem Thema Wissenschafts-PR. Das wissenschaftliche Streitgespräch, bei dem vier Disputanten Argumente und Gegenargumente austauschen, beginnt 15 Uhr in der Stiftung Leucorea in Wittenberg. Zuvor ziehen die Mitglieder des Akademischen Senats der MLU ab 14.30 Uhr in akademischer Tradition in ihren historischen Talaren vom Rathaus zur Stiftung Leucorea.
Plant protection: researchers develop new modular vaccination kit
Simple, fast and flexible: It could become significantly easier to vaccinate plants against viruses in future. Scientists at Martin Luther University, the Leibniz Institute of Plant Biochemistry and the National Research Council in Italy have developed a new method for this purpose. It enables the rapid identification and production of precisely tailored substances that combat different pathogens. The researchers discuss their work in the journal "Nucleic Acids Research".
Why humans in Africa fled to the mountains during the last ice age
People in Ethiopia did not live in low valleys during the last ice age. Instead they lived high up in the inhospitable Bale Mountains. There they had enough water, built tools out of obsidian and relied mainly on giant rodents for nourishment. This discovery was made by an international team of researchers led by Martin Luther University. In the current issue of "Science", the researchers provide the first evidence that our African ancestors had already settled in the mountains during the Palaeolithic period, about 45,000 years ago.
New Research Training Group: Plant cells as small-scale assembly lines
Growth for plant research in Halle: A new Research Training Group (RTG) opened at Martin Luther University. Doctoral students are investigating how complex biochemical processes are controlled in subdivided rooms (so-called "compartments") of plant cells. The Deutsche Forschungsgemeinschaft (DFG, German Research Foundation) is investing around four million euros in the RTG 2498 "Communication and Dynamics of Plant Cell Compartments".
News
Wie können Schülerinnen und Schüler mit speziellem Förderbedarf angemessen betreut werden, sodass sie am deutschen Bildungssystem erfolgreich teilhaben können? Dieser Frage geht das Institut für Rehabilitationspädagogik der Universität Halle seit nunmehr 70 Jahren nach. Am Freitag, 25. Oktober 2019, findet in den Franckeschen Stiftungen deshalb eine Festveranstaltung statt, die einen Blick auf die Geschichte des Instituts wirft, das im Oktober 1949 gegründet wurde.
News
Ein neues Material könnte dabei helfen, extrem energiesparende Anwendungen in der Informationstechnologie zu entwickeln. Entdeckt wurde es von einem internationalen Forschungsteam unter Beteiligung der Universität Halle. Die Elektronen an der Grenzfläche des Materials zeigen besondere Eigenschaften, die zu einer drastisch erhöhten Umwandlungrate eines Spinstroms in einen Ladungsstrom führen. Diese ist die Grundlage für zukünftige Anwendungen in der Spintronik. Damit erweist sich das neue Material als effizienter als alle bisher untersuchten, wie das Team im Fachjournal "Nature Materials" schreibt.
The immune system of plants works differently than expected
What happens at the molecular level when plants defend against invading pathogens? Previously it was assumed that the processes were roughly the same in all plants. However, this is not true, as a team of biologists from Martin Luther University has demonstrated in a new study published in the scientific journal "The Plant Cell". The team also describes how they discovered this complex interaction with the aid of CRISPR/Cas9 genome editing techniques.
Study: Global farming trends threaten food security
Citrus fruits, coffee and avocados: The food on our tables has become more diverse in recent decades. However, global agriculture does not reflect this trend. Monocultures are increasing worldwide, taking up more land than ever. At the same time, many of the crops being grown rely on pollination by insects and other animals. This puts food security at increased risk, as a team of researchers with help from Martin Luther University writes in the journal "Global Change Biology".
Physicists Develop "Time Machine" for Materials Science
Physics experiments are often time-consuming and expensive. Sometimes scientists do not realize until the very end that they have been using the wrong calibration for measurements the whole time. What if there were a way to go back in time to the start of the experiment and re-examine the data? Researchers at Martin Luther University, Freie Universität Berlin, and the Technical University of Munich (TUM) hope to create a machine that would make that possible. They plan to develop their "time machine" for the large-scale research equipment at the Helmholtz-Zentrum Berlin für Materialien und Energie (HZB), which would mean a helpful improvement for the facility.
Hawai'i: Introduced species dilute the effects of evolution on diversity
Understanding how biodiversity is shaped by multiple forces is crucial to protect rare species and unique ecosystems. Now an international research team has found that biodiversity is higher on older islands than on younger ones. Furthermore, they found that introduced species are diluting the effects of island age on patterns of local biodiversity. The findings were published in "PNAS".
This barley can withstand the challenges of climate change
Research for the benefit of food security: A new line of barley achieves good crop yields even under poor environmental conditions. It has been bred by a research team from Martin Luther University, which crossed a common variety with various types of wild barley. The researchers then planted the new lines of barley in five very different locations around the world, observed the growth of the plants and analysed their genetic make-up. As the team reports, some of the plants were not only more resistant to heat and drought, but in many cases achieve higher yields than local varieties.
---
---