---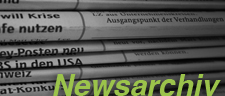 Newsarchiv: Creating knowledge since 1502
Jahr 2016
New ideas for information technology: CRC at Halle university receives 10 million euros from DFG
The third round for cutting-edge research in nanoscience: The collaborative research centre (CRC) 762 "Functionality of Oxide Interfaces" at Martin Luther University Halle-Wittenberg (MLU) will receive 10 million euros in funding for a further four years from the German Research Foundation (DFG). MLU's partners are the University of Leipzig and the Max Planck Institute of Microstructure Physics in Halle.
One and a half tonnes of valuable files: winner of the Humboldt Research Award brings wealth of data to Halle
The data of the oldest German collection of biographical interviews recorded on audio tape was believed to have gone missing years ago. Now it is stored at MLU. The transfer was facilitated by a Humboldt Research Award winner, Prof. Christina von Hodenberg, who is originally from Queen Mary University London and currently working in Halle.
---
---