---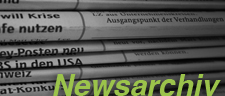 Newsarchiv: Creating knowledge since 1502
Jahr 2020
Mystery about cause of genetic disease in horses
Warmblood fragile foal syndrome is a severe, usually fatal, genetic disease that manifests itself after birth in affected horses. Due to the defect, the connective tissue is unstable. Under force, for instance, the skin tears from the tissue underneath and the joints can suffer dislocation. A research team from the Universities of Göttingen and the Martin Luther University Halle-Wittenberg (MLU) has now been able to prove that the disease did not stem from the English thoroughbred stallion Dark Ronald XX, which had been the assumption until now. The results have been published in the journal "Animal Genetics".
BMBF-Projekt: Forscher arbeiten an neuem Therapieansatz für fortgeschrittenen Brustkrebs
Ein neues Forschungsprojekt untersucht, wie sich mit Hilfe neuartiger Substanzen verschiedene Arten von fortgeschrittenem Brustkrebs behandeln lassen. Geleitet wird es von der Universität Halle, der Universität Greifswald und der Universitätsmedizin Rostock. Gemeinsam wollen die Teams neue Wirkstoffkandidaten entwickeln, die ein spezielles Enzym in den Tumorzellen attackieren, das für das Wachstum und die Ausbreitung der Tumoren eine entscheidende Rolle spielt. Das Bundesministerium für Bildung und Forschung (BMBF) fördert das Projekt mit einer Million Euro.
Electron cryo-microscopy: Using inexpensive technology to produce high-resolution images
Biochemists at Martin Luther University Halle-Wittenberg (MLU) have used a standard electron cryo-microscope to achieve surprisingly good images that are on par with those taken by far more sophisticated equipment. They have succeeded in determining the structure of ferritin almost at the atomic level. Their results were published in the journal "PLOS ONE".
Neue Testmethode kann das Coronavirus in stark verdünnten Gurgelproben erkennen
Pharmazeuten der Universität Halle ist es gelungen, mit Massenspektrometrie kleinste Mengen des Coronavirus SARS-CoV-2 nachzuweisen. Für ihre Untersuchung nutzten sie Lösungen, mit denen an COVID-19 Erkrankte gegurgelt hatten. Die neue Methode könnte künftig als Ergänzung für bisher übliche Tests dienen. Sie wird nun weiter verbessert, um als Standard-Diagnostik-Werkzeug zur Verfügung zu stehen. Erste Ergebnisse wurden im Fachmagazin "Journal of Proteome Research" veröffentlicht.
Care for cats? So did people along the Silk Road more than 1,000 years ago
Common domestic cats, as we know them today, might have accompanied Kazakh pastoralists as pets more than 1,000 years ago. This has been indicated by new analyses done on an almost complete cat skeleton found during an excavation along the former Silk Road in southern Kazakhstan. An international research team led by Martin Luther University Halle-Wittenberg (MLU), Korkyt-Ata Kyzylorda State University in Kazakhstan, the University of Tübingen and the Higher School of Economics in Russia has reconstructed the cat`s life, revealing astonishing insights into the relationship between humans and pets at the time. The study will appear in the journal "Scientific Reports".
Rätsel um Auslöser für genetische Erkrankung bei Fohlen
Das fragile Fohlen-Syndrom beim Warmblutpferd ist eine schwere, meist tödliche, genetische Erkrankung, die sich bereits nach der Geburt bei betroffenen Fohlen zeigt. Durch den Defekt ist das Bindegewebe instabil. Bei Belastung löst sich zum Beispiel die Haut vom darunterliegenden Gewebe und die Gelenke werden instabil. Ein Forschungsteam der Universität Göttingen und der Universität Halle konnte nun nachweisen, dass die Krankheit nicht auf den berühmten Stempelhengst Dark Ronald XX zurückzuführen ist. Dies wurde bislang vermutet. Die Ergebnisse sind in der Fachzeitschrift "Animal Genetics" erschienen.
Seidenstraße: Auch Hirten hielten Katzen als Haustiere
Gewöhnliche Hauskatzen, wie wir sie heute kennen, haben kasachische Hirten schon vor über 1.000 Jahren als Haustiere begleitet. Das belegen neue Analysen eines fast vollständigen Katzenskeletts, das bei einer Ausgrabung im Süden Kasachstans an der einstigen Seidenstraße gefunden wurde. Ein internationales Forschungsteam unter Leitung der Universität Halle, der Korkyt-Ata Kyzylorda State University in Kasachstan, der Universität Tübingen und der Hochschule der Wirtschaftswissenschaft in Russland hat nun das Leben der Katze rekonstruiert und liefert damit erstaunliche Einblicke in das damalige Verhältnis von Menschen zu Haustieren. Die Studie erscheint in der Fachzeitschrift "Scientific Reports".
Kryoelektronenmikroskopie: Hochauflösende Bilder mit günstiger Technik
Mit einem Standard-Kryoelektronenmikroskop erzielen Biochemiker der Universität Halle erstaunlich gute Aufnahmen, die mit denen weit teurerer Geräte mithalten können. Es ist ihnen gelungen, die Struktur eines Eisenspeicherproteins fast bis auf Atomebene aufzuklären. Die Ergebnisse wurden in der Fachzeitschrift "PLOS ONE" veröffentlicht.
Nutrients in microalgae: an environmentally friendly alternative to fish
Microalgae could provide an alternative source of healthy omega-3 fatty acids for humans while also being more environmentally friendly to produce than popular fish species. This is the result of a new study by scientists from Martin Luther University Halle-Wittenberg (MLU). The study was recently published in the "Journal of Applied Phycology" and offers an initial indication of the environmental effects of producing microalgae in Germany.
Spintronics: Faster data processing through ultrashort electric pulses
Physicists at Martin Luther University Halle-Wittenberg (MLU) and Lanzhou University in China developed a simple concept that could improve significantly magnetic-based data processing. Using ultrashort electric pulses in the terahertz range, data can be written, read and erased very quickly. This would make data processing faster, more compact and energy efficient. The researchers confirmed their theory by running complex simulations and the results were published in the journal "NPG Asia Materials".
Nährstoffe aus Mikroalgen: eine umweltfreundliche Alternative zu Fisch
Mikroalgen könnten eine alternative Quelle für die gesunden Omega-3-Fettsäuren in der menschlichen Ernährung sein – und das umweltfreundlicher als beliebte Fischarten. Das zeigt eine neue Studie von Wissenschaftlerinnen und Wissenschaftlern der Universität Halle. Die Studie erschien kürzlich in der Fachzeitschrift "Journal of Applied Phycology" und gibt erste Hinweise auf die zu erwartenden Umwelteffekte, wenn Mikroalgen in Deutschland produziert würden.
Deutschlandstipendium: Bewerbung bis zum 24. Juli 2020
Zum Wintersemester 2020/21 vergibt die Universität Halle wieder Deutschlandstipendien. Studierende sowie Studienbewerberinnen und -bewerber können sich bis zum 24. Juli online bewerben. Das Stipendium in Höhe von 300 Euro pro Monat wird in der Regel für zwei Semester vergeben.
---
---